Selling Spider-Man Apples and Mickey Mouse Grapes by the Billions
By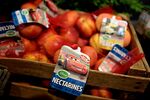 Disney is one of the great marketing forces of our time. Exhibit A: Miley Cyrus, pre-twerk. Exhibit B: Spider-Man apples.
You may be skeptical—about the apples, and maybe about Miley, too—but the company just announced that sales of its "Disney-branded fruits and vegetables" tripled over the past year. In all, more than 3.1 billion servings have been sold in North America since 2006, and it seems fair to conclude those are mostly servings of fruit instead of vegetables. No word, though, on how many have actually been eaten.
From Disney's perspective, as well as retailers such as Walmart and Target, putting princesses and superheroes on produce is genius. Apparently lots of parents think so, too. There are already Phineas and Ferb apple slices (PDF), some of which come with caramel sauce. You can find Donald Duck and Goofy blueberries, as well as Mickey Mouse grapes and cherries. Come spring, you'll be able to buy Avengers and Spider-Man apple slices or mangoes with Disney characters.
So it seems fair to ask, with some trepidation: What could possibly be next? Well, Disney has licensed its Monsters University characters to something called Flavorz. They turn out to be sliced apples infused with other fruit flavors. Why would you do that to a perfectly good apple? As John T. King, the guy in charge of this business at Disney Consumer Products, said in the announcement: "We continue to innovate, delivering flavors that appeal to kids and offering an ever-expanding assortment of fruits and vegetables featuring the Disney characters kids know and love." The Monsters characters will be on the blue raspberry flavor, Phineas and Ferb are already being used to sell the grape-flavored apples, and the strawberry vanilla cream flavor packages feature Disney Princess (that's right, just Princess.)
Spider-Man will also be on the packaging for freeze-dried fruit snacks such as Ultimate Strawberries. The snacks, made by a company called Funky Monkey Snacks, avoid the so-called complications of regular fruit. Even superheroes can't keep fruit from spoiling.
Before it's here, it's on the Bloomberg Terminal.
LEARN MORE