Mapping 22 Different Latino Populations Across the U.S.A.
New maps show the geographic differences among Mexican, Salvadorean, Cuban, and other ethnic populations.
By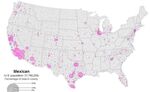 Where do America's Latino and Hispanic populations live? Let's start with where they're not living: in Montana, Wyoming, the Dakotas, and a whopping chunk of the Midwest that probably hears a sí as often as the cry of an Amazonian toucan.
That's the picture painted by this absorbing visualization from the U.S. Census, showing where people with ties to south-of-the-border countries reside in the United States. Using people's self-reported "specific origins" from the 2010 census, the nation's top head-counters have assembled population maps for 22 ethnic groups from Mexico, the Caribbean, and Central and South America. If you want to chat with someone of Mexican descent, you'd be wise to head to Los Angeles and multiple cities in Texas, for instance. The main population center for Cubans is Miami, Puerto Ricans mass around New York City and the East Coast, and Bolivians cluster in Washington, D.C.
The U.S. Census released these revealing maps on September 30, but as its website went offline the next day due to the government shutdown, they haven't gotten much attention. They're quite noteworthy for the demographic patterns they contain, though: Flip through a half dozen or so maps, and you'll notice that while these groups are spread throughout the country, their numbers are concentrated in just a few major cities, including L.A., New York, Chicago, Miami, and Houston. Here are examples showing that distribution (the size of the circles correlates to the largeness "proportion of the group that lives in a given county," according to the census):

Folks of Mexican descent tend to live in Los Angeles and throughout Southern California, around Chicago and Phoenix, and in western Texas. Smaller populations have made homes in Denver, New York City, Seattle, and elsewhere.

People with Puerto Rican bloodlines bunch heavily around New York and the I-95 corridor, in Florida cities like Orlando, Tampa, and Miami, and in Chicago and on all the islands of Hawaii.

The county's Cubans are exactly where you'd expect them to be, in southern Florida.

There's a big Little Guatemala in Los Angeles, and lesser ones around the San Francisco Bay, Houston, Chicago, New York, Miami, and Washington, D.C.

Bolivia represents in a major way in the D.C. metro area:

Ecuador has outposts in all the usual Latino population centers, with outliers in Atlanta, Charlotte, Dallas/Fort Worth, Las Vegas, and Minneapolis (which might explain why local Ecuadorean eatery Chimborazo has an amazing 96 percent positive rating on Urban Spoon).

The Census Bureau has also mapped the populations of "other Hispanic or Latino," such as Spaniards, who are all over the place, including New Mexico, the mountains of Colorado and Portland, Oregon.
Maps courtesy of the U.S. Census