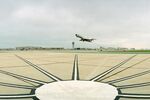 The next time you're flying in or out of Los Angeles International Airport, check to see if the ride's a bit bumpy&mdash'it may not be the pilot's skills. The airport is suing a group of contractors involved in the construction of Runway 25 Left on the far south side of the airport, alleging that the work was shoddy and that it will need to be replaced sooner than expected.
The six-year-old runway has cracks, exposed steel reinforcing bars, and deteriorating concrete, the Los Angeles Times reported yesterday, citing city officials. The problems could disrupt flights at the third-busiest airport in the U.S., according to the lawsuit, filed last week. A typical commercial runway is designed to last 20-25 years, but LAX's 25 Left will require replacement sooner than that, the airport contends.
Airport officials "continually monitor the condition of the runway in order to assure that it remains safe for operations," Nancy Castles, a spokeswoman for Los Angeles World Airports, said today, declining further comment. The 11,095-foot runway, one of four at LAX, opened in April 2007 and handles as many as 500 flights per day. Its construction cost about $250 million.
The lawsuit names contractors R&L Brosamer, part of Chicago's Walsh Construction; HNTB Corp. of Kansas City, Mo.; CH2M Hill of Englewood, Colo.; Tutor-Saliba of Sylmar, Calif; and O&G Industries of Torrington, Conn. An HNTB spokeswoman declined to comment. The other companies did not return calls seeking comment.
Before it's here, it's on the Bloomberg Terminal.
LEARN MORE