Crowdfunding Rules Set to Become Even More Indulgent
by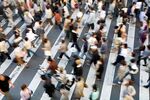 Rules around the coming crowdfunding free-for-all may be getting even more lax.
Businesses looking to raise capital by offering equity to investors via campaigns that get attention on social media won't have to verify that these backers meet income and net worth criteria, under a proposal the Securities and Exchange Commission will vote on Oct. 23. That's according to a report by Bloomberg News, citing two people familiar with the matter.
Crowdfunding was included in the Jumpstart Our Business Startups Act of 2012, and it's taken the SEC this long to work out all the rules related to implementing it. Watchdog groups are worried investors will be easily defrauded, given how little is known about the embryonic companies most likely to use this technique to bring their ideas to market. The JOBS Act contains more than a dozen conditions on crowdfunding: Companies are limited to raising $1 million in debt or equity this way per year, for example, and investors will be able to cancel their investment within a certain time period.
Individuals also face, in theory, an investment maximum—$5,000 per company per year if their annual income is up to $100,000, or $100,000 per company per year if their annual income or net worth is higher. Now the SEC is considering allowing companies to skip any kind of verification process that would ensure their new fans abide by those limits.
Some see that as a recipe for disaster. "What we are talking about are companies that in all likelihood are not going to be winners, and they are being invested in by people who clearly don't have the expertise and financial smarts of venture capitalists," Lynn Turner, a former SEC chief accountant, told Bloomberg News. "You put those together and you are creating a real opportunity for scams and fraud and significant losses."
Before it's here, it's on the Bloomberg Terminal.
LEARN MORE