China Growth Rebounds After Li Stimulus to Meet Target
Bloomberg News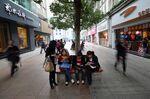 China's economic growth accelerated for the first time in three quarters, as Premier Li Keqiang spurred factory output and investment to meet the government's expansion goal for 2013.
Gross domestic product rose 7.8 percent in the July-September period from a year earlier, the National Bureau of Statistics said today in Beijing, matching the median estimate in a Bloomberg News survey. Industrial production advanced in September by 10.2 percent, in line with projections, while retail sales gained 13.3 percent.
The pickup reflects Li's implementation of what Bank of America Corp. called a "mini fiscal stimulus," including railway spending and tax cuts, to support the world's second-largest economy. Today's figures also showed home sales jumped 34 percent in September from the previous month even amid restrictions aimed at preventing a bubble, adding to signs of imbalances that may cast doubt on the recovery's staying power.
"There's no question China can achieve this year's growth target of 7.5 percent," said Zhu Haibin, chief China economist at JPMorgan Chase & Co. in Hong Kong. Even so, the "recovery momentum is not likely to last long," he said, citing relatively weak emerging markets, the yuan's appreciation and a cooling in manufacturing investment.
"We expect the fourth quarter will continue to be quite decent growth but moderate a little bit," Zhu said.
The MSCI Asia Pacific Index of stocks rose 0.3 percent at 4:10 p.m. in Tokyo, while the Shanghai Composite Index advanced 0.2 percent, the first gain in four days. The yuan, which pared gains against the dollar after the report, touched a 20-year-high earlier today, risking additional pressure on the nation's exports.
World Buffeted
China's rebound is a bright spot in a world economy that has been buffeted by a possible tapering of the U.S. Federal Reserve's monetary stimulus and an impasse that saw American lawmakers push the nation to the brink of default. The International Monetary Fund earlier this month cut its global forecast as capital outflows further weaken emerging markets.
Growth estimates from 48 economists ranged from 7.4 percent to 8.2 percent, after the second quarter's 7.5 percent pace. GDP was up 2.2 percent from the previous quarter, compared with the 2.1 percent median projection of 14 analysts, and expanded 7.7 percent in the first nine months of the year.
Li Keqiang said last week that growth in the first nine months exceeded 7.5 percent. He said this week that China's recovery will continue and the nation is able to meet this year's targets, the official Xinhua News Agency reported.
Credit Growth
"The new government under Premier Li Keqiang will prevent further quickening of credit growth, will choose not to further expand its mini fiscal stimulus and will likely tone down their pro-growth rhetoric," Lu Ting, head of Greater China economics at Bank of America in Hong Kong, said in a note today. At the same time, it's unlikely that Li will "noticeably slow credit growth and cut fiscal spending in the near term," Lu wrote.
Industrial output growth compared with August's 10.4 percent. Retail sales compared with a median estimate of 13.5 percent expansion and 13.4 percent in August.
Fixed-asset investment excluding rural households, a key force behind growth, grew 20.2 percent in the first nine months of the year, compared with the median estimate of 20.3 percent from analysts and a 20.3 percent pace in the January-August period.
The September figures show that "all the monthly data is trending the other way," indicating that a slowdown is coming, said Yao Wei, China economist at Societe Generale SA in Hong Kong, who's ranked the most accurate forecaster of GDP by Bloomberg. "The focus is going to shift towards reform."
Stronger Footing
The Communist Party meets next month to discuss rolling out policies that may hurt growth temporarily while putting expansion on a stronger long-term footing.
Next month's gathering will be the third full meeting of the party's current Central Committee, including President Xi Jinping, Premier Li, ministers and the heads of the biggest state firms and banks. It was at such a third plenum in late 1978 that Deng Xiaoping and his allies inaugurated a series of reforms that began to open up China to foreign investment and loosen state controls over the economy.
The value of homes sold climbed to 691.1 billion yuan ($113 billion) last month from 514.6 billion yuan in August, based on the difference between the statistics-bureau data for the first three quarters of the year and the first eight months. Housing sales in the first nine months surged 34.5 percent to 4.54 trillion yuan from a year earlier, according to the data.
Steelmaker Profit
Some manufacturers are sharing in the recovery. Angang Steel Co., the largest steelmaker traded in Hong Kong, said Oct. 11 that it probably had 63 million yuan in net income last quarter, compared with a loss of 1.19 billion yuan a year earlier. The company cited lower procurement costs and higher selling prices.
Central bank data this week showed new yuan loans topped estimates while the broadest measure of credit fell from August, as authorities try to support expansion without boosting shadow finance. China's exports unexpectedly fell in September and inflation jumped on food prices, signaling constraints on the nation's recovery, government data showed this month.
The People's Bank of China said Oct. 16 that the nation faces pressure for faster credit growth because of capital inflows stemming from the U.S. Federal Reserve's decision to hold off from reducing stimulus. It's clear the central bank won't ease policy, economist Xu Gao of Everbright Securities Co. said this week.
Economic Proxies
"China's economy is back," Stephen Green, head of Greater China research at Standard Chartered Plc in Hong Kong, said in a Bloomberg Television interview before the release. "When you look at all the proxies -- whether it's steel production, electricity, freight movement, credit growth -- they are all suggesting things are positive."
Expansion may decelerate next year to about 7.2 percent, with a government target of 7 percent, marking "slightly slower but hopefully better quality growth as well," Green said.
Elsewhere in the world today, the Netherlands and Belgium will see reports on consumer confidence, Canada releases figures on September inflation and Mexico provides last month's unemployment rate.
In China, Premier Li is trying to both defend this year's 7.5 percent growth target and pursue reforms that reduce the government's hand in the economy. The central bank in July scrapped a floor on borrowing costs and signaled that easing limits on deposit rates would come in the next phase of interest-rate liberalization.
Trade Zone
China also started a pilot free-trade zone in Shanghai at the end of September, promising a more business-friendly regulatory framework and relaxed capital-flow rules that would help result in an "upgraded version" of the nation's economy.
Risks to growth include government debt that analysts at banks including JPMorgan say is approaching levels that helped trigger turmoil in other economies. A review of local debt by the National Audit Office may result in limits on some governments' borrowing abilities if their debts are found to be too high, which in turn may put pressure on expansion, according to Societe Generale's Yao.
The findings from the audit will be submitted to the State Council on about Oct. 20 and may be made public next month, National Business Daily reported this week, citing an unidentified person.
Before it's here, it's on the Bloomberg Terminal.
LEARN MORE