Another Miffed Beer Drinker Goes After AB InBev in Court
By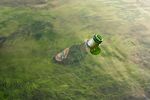 Anheuser-Busch InBev, the world's largest beermaker, is beloved on Wall Street for controlling costs and hitting its financial targets as it seeks to blanket the globe with its products like Budweiser and Beck's. It also has a growing number of unhappy customers. Some of them are taking their grievances to court.
The latest is Francisco Rene Marty, a forlorn Beck's drinker who resides in Miami. The St. Louis Business Journal reports that Marty has filed a class-action suit against AB InBev in U.S. District Court for the Southern District of Florida, accusing it of trying to hoodwink consumers into believing that the Beck's sold in the U.S. is still brewed in Germany. He has asked for $5 million in damages.
You'd think he would just find a true German import and move on with his life, but Marty isn't so easily satisfied. He claims in court papers that AB InBev is trying to create the impression that Beck's is still imported by stating on the bottle that the beer is "Originated in Germany." There is no way the American Beck's can be the same as the German kind, he laments. The Journal reports that "the lawsuit alleges that although the beer is still brewed with water, hops, barley and yeast, 'the source and type of each of these ingredients is substantially different. For example, Beck's Beer is brewed with water from Missouri, as opposed to the Rotenburger Rhine in Germany.'"
Marty isn't the only disappointed AB InBev customer. His suit comes after a flurry of class actions earlier this year accusing AB InBev of lowering the alcohol content of Budweiser.
The company insists that all of these claims are specious, and it's unclear whether any of these plaintiffs will prevail in court against the well-financed Belgium-based corporation. Regardless, their courtroom challenges don't help when AB InBev is trying to contend with the rising popularity of craft brewers in the U.S. Sure, some drinkers gripe that craft beers are excessively hoppy. But nobody's suing them for it.