Another Japanese Company Tells Employees, 'Speak English'
By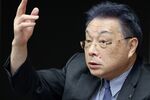 Bridgestone, the Tokyo-based, global leader in tire sales, is adopting English as its official language, joining a small group of Japanese companies using language to declare their global ambitions.
The timing of Bridgestone's announcement might seem at odds with the good news coming from Japan. For the first time in years, Japan's economy is on the move, with Prime Minister Shinzo Abe making progress in ending the country's long deflationary funk. But for companies such as Bridgestone, the short-term movement doesn't change the basic belief that moving away from Japan and its rapidly aging population is the only way to grow.
Hence the need for people who can communicate in English. "Especially for our young employees, we're going to tell them that English is a must if they want to move up the ladder," Bridgestone Chief Executive Officer Masaaki Tsuya told reporters when he announced the language change.
Give Tsuya credit for venturing into territory off limits to most Japanese executives. A tiny group of elite Japanese companies has already signified their global ambitions by adopting English, but Bridgestone becomes the first of the country's traditional manufacturers to make the leap.
The two other big companies to adopt English are not the sort of manufacturing-specialists that helped build Japan's postwar miracle. One is Fast Retailing, which operates the Uniqlo fast-fashion chain; the other is online retailer Ratuken. Both became national and global powers in the first decade of this century, a 10-year span that was part of Japan's lost years. Fast Retailing's chairman, Tadashi Yanai, is the country's wealthiest man, and Rakuten's founder, Hiroshi Mikitani, is No. 3, behind only Yanai and Softbank's Masayoshi Son (with whom he's engaged in a new e-commerce price war).
The willingness of an old-style manufacturer like Bridgestone to follow the lead set by those unconventional billionaires and adopt "Englishnization" (Rakuten's term for its language policy) should encourage other Japanese companies to take the leap. Tsedal Neeley is a Harvard Business School professor who has studied Rakuten's language transition. She argues that English is a competitiveness issue. As they compete around the world, she wrote in an article published last year, "companies must overcome language barriers—and English will almost always be the common ground, at least for now."
Adopting English isn't easy. Japanese have a reputation for not learning English as well as, say, Chinese. Still, Japan has a long history of borrowing words from English and other foreign languages and making them mainstream Japanese words. Years ago, when I lived in Tokyo, I could exercise at the spotsu sentah, get my clothes cleaned at the durai kuliningu shop, and buy sodah watah at the neighborhood grocery store.
One senior citizen recently decided enough was enough. According to AFP, 71-year-old Hoji Takahashi sued broadcaster NHK and demanded ¥1.41 million ($14,100) in damages incurred by its use of words that come from English. "The basis of his concern is that Japan is being too Americanized," his lawyer told AFP. "There is a sense of crisis that this country is becoming just a province of America." (He will find allies in France, which has banned such Franglais phrases as "hashtag," "supermodel," and "low-cost airline;" this spring, Prime Minister Jean-Marc Ayrault ordered his cabinet to stop using English.)
Takahashi may take some comfort in the fact that change comes slowly. For instance: Bridgestone's Tsuya is not quite ready to practice what he preaches. When the boss unveiled the policy at a press briefing in Tokyo, he spoke in Japanese, with no interpreters.