After Years of Buzzer Beaters, South Park Blows a Deadline
By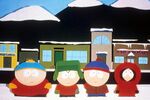 There's a scene in the 2011 documentary, 6 Days to Air: The Making of South Park, in which then-supervising producer Frank Agnone jumps in his car and drives across Los Angeles to the studio that feeds episode footage to Comedy Central in New York. The scene takes place on Wednesday—the day the show is set to air—and Angnone has 18 minutes to make his deadline. "The first couple episodes, we actually delivered a couple days early," he says to the camera. "We don't do that anymore."
South Park's down-to-the-wire production methods finally failed them this week when a power outage kept Trey Parker and Matt Stone from finishing their 241st episode, "Goth Kids 3: Dawn of the Posers." The episode never aired; audiences got a rerun from 2001. What's so surprising about this mishap isn't that it happened to South Park but that it hasn't happened before. When the show first started in 1997, the animation was done by hand, and it took weeks to produce just one show. As technology advanced and South Park's reaction to current events became quicker and quicker, the show's schedule shortened and shortened.
In fact, the entire 6 Days to Air documentary is about that grueling schedule. A good week for the animators is one in which their Tuesdays end at 4 a.m.—technically Wednesday—instead of 9 a.m., when most people are on their way to work. "Simpsons, Family Guy, those guys take eight to 10 months [to put together a show]," Ryan Quincy, South Park's then-animation producer, says in the documentary. "And we're doing the same thing in six days. No one does a show like this."
The missed deadline doesn't damage South Park's reputation. (Athough who knows what Comedy Central thinks about it?) Still, the mishap broaches a larger question: How fast is too fast? When people can tweet immediate responses to events as they unfold—before they fully understand them, when TV news crews and online communities rush to explain complex breaking news stories five seconds before their competitors, and when audiences expect a weekly animated show to make jokes about current events just days after they've occurred, the opportunity for error increases. Are we O.K. with that? Are Parker and Stone O.K. with that?
We'll have to wait until next week to find out.
Before it's here, it's on the Bloomberg Terminal.
LEARN MORE