Will Apparel Sink Sperry's Sailing Shoe Business?
By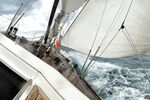 Batten down the hatches. Sperry Top-Sider, the brand behind boat shoes, is tacking toward the apparel business. The company today unveiled a line of men's and women's clothing that follows its general Cape-Cod-in-the-1980s aesthetic. Think waterproof yachting jackets, cargo pants, knit sweaters, and lots and lots of navy blue stripes.
It's a logical expansion: Sperry has posted double-digit percent sales gains for 16 consecutive quarters. It's also a bit of a risky bet. "It makes all the sense in the world; that doesn't mean it's going to work," says Howard Davidowitz, founder of Davidowitz & Associates, a Manhattan-based retail consultancy.
The move is a way for Sperry owner Wolverine World Wide to increase sales without cannibalizing its shoe business. Plus, the company's distribution network is already built.
Nike has made a mint jumping from shoes to clothes. Roughly one-quarter of its sales now comes from apparel. Under Armour is capitalizing on a similar move, albeit in reverse; it tacked a burgeoning line of shoes on top of its popular workout clothes.
If all goes as planned, the broader line of products will help Sperry stretch from a maker of boat shoes to the type of wholesaler that gets a dedicated corner of real estate in department stores. Wolverine couldn't be reached for comment, but Sperry President Craig Rheingold told Women's Wear Daily he is trying to create a "lifestyle brand." "We need apparel to complete the package and bring the brand to life," Rheingold said.
The challenge is that Wolverine doesn't know much about clothes. It has outsourced production to LF USA, but that spreads only some of the risk. And the apparel business is, in a word, difficult. Sperry has survived, more or less, by selling the same shoe for almost 80 years. The winds of fashion for clothes can turn in a matter of months.
"You've got to attract some of these geniuses who can come up with six different looks a season in the right color and the right weight," Davidowitz says. "This is extraordinarily complex and hard to execute, which is why apparel stuff fails every 5 seconds."
Megan Donadio, a retail strategist at Kurt Salmon, says companies tend to have more luck expanding from clothes to shoes, rather than vice versa. For one thing, a new shoe model can be developed over an entire year, rather than a season, she notes. And consumers see shoes as accessories, not the core of an outfit or style.
"Apparel companies think: 'I know I can design a shoe that fits our outfits,'" Donadio says. "It's a natural extension, but the reverse is much harder."
Before it's here, it's on the Bloomberg Terminal.
LEARN MORE