Digital Drought Wrecks the Great American Content Farm
by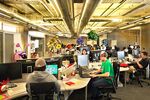 Remember when Demand Media was worth more than the New York Times?
It wasn't so long ago, in those heady days of 2011, when so-called content farms including Examiner.com, the Yahoo! Contributor Network, and Demand—online publishers that organized armies of low-paid freelancers to crank out large volumes of cheap, evergreen content designed to generate search-engine traffic—felt like the inevitable, if somewhat dispiriting, future of media.
These days, however, content farms feel like something else: yesterday's future. And one that's growing increasingly dim.
This week, in the latest sign of unrest, Demand Media's board announced that co-founder Richard Rosenblatt is stepping down as chief executive officer and chairman of the company. "It has been a great honor to work with our investors, board and brilliant team over the past seven years," Rosenblatt said in a statement. "I realize that all journeys must ultimately come to an end."
Demand Media went public in January 2011 amid much fanfare. "They really understand consumer behavior on the Web and how to build businesses on it," Facebook Chief Operating Officer Sheryl Sandberg told Bloomberg Businessweek at the time. The venture capitalist Aviv Nevo proclaimed himself "privileged to be an investor." Demand Media sold 8.9 million shares at $17 each in its initial pubic offering on Jan. 25, 2011, and the next day saw the price jump to $22.61. It was a triumphant moment for the company—and, by extension, the publishing model it had come to epitomize.
Two and half years later, the luster is largely gone. On Tuesday, in the wake of Rosenblatt's resignation, Demand Media's shares closed at $5.34. Once valued at more than $1.9 billion, the company's market cap has fallen below $500 million. Demand Media is now worth less than a quarter of the New York Times. What happened?
In part, Google's "Panda Update" happened.
In February 2011, shortly after Demand Media went public, Google made a major change to its algorithm designed to lower the search rankings of websites pushing junky content. At the time, observers speculated that the changes would severely hamper the growth of content farms. Nevertheless, Demand Media executives expressed confidence that Google's update wouldn't hurt them.
As it turns out, they were wrong. In January 2011, according to ComScore data, Demand Media's various sites were generating 75 million monthly unique visitors in the U.S. By August 2013, its sites were pulling in 53 million unique visitors.
"You have to have a loyal audience," says Matthew Shanahan of Web consulting firm Scout Analytics. "Are you building a brand that people want to go to? That's always been their issue. They were getting those flyby search users. And then Google made the change. That's going to have an impact. If you never invest the time to build a loyal audience, you're going to be at risk."
In the meantime, the zeitgeist feels like it's moved on. Now social publishers, not content farms, are all the rage, and the frenzied interest that Demand Media and its brethren once inspired has largely dissipated. "They were such a sensation," says Ken Doctor, a consumer media analyst for Outsell. "I haven't heard anybody in the publishing world even mention them since 2011."
Where does Demand Media go from here?
In August it announced second-quarter net income of $1.1 million on $97 million of total revenue and signaled that the company might be moving more aggressively into retail. "Demand Media accelerated its content commerce strategy in Q2 with the acquisition of e-commerce marketplace Society6, complementing our content platform as well as our other commerce initiatives like Creativebug, eHow Now and Stronger," CEO Rosenblatt said in a press release at the time. Translation: We're not betting the farm on the old model.
Before it's here, it's on the Bloomberg Terminal.
LEARN MORE