The SEC's Knight Capital Fine Adds Insult to Injury
by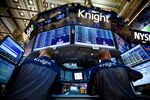 Knight Capital is a shell of its former self. Even after more than a year of serious market mishaps, the former high-frequency-trading giant's $460 million implosion—dubbed the "Knightmare"—in August 2012 still stands at the top of the heap.
The software glitch that hit that day cost Knight its independence, leading to its merger late last year with Getco, the high-frequency-trading behemoth. The company, now known as KCG Holdings, has its own problems, reflected in a 90 percent drop in profits last year.
Now the U.S. Securities and Exchange Commission is slapping Knight with a $12 million fine, basically for being reckless. According to a statement on the SEC's website, the agency is enforcing for the first time a 2010 rule that aims to punish, and ideally prevent, trading errors.
"Knight Capital's violations put both the firm and the markets at risk," Andrew Ceresney, co-director of the SEC's Division of Enforcement, said in the statement. "Given the rapid pace of trading in today's markets and the potential massive impact of control breakdowns, broker-dealers must be held to the high standards of compliance necessary for the safe and orderly operation of the markets."
As my Bloomberg News colleague Sam Mamudi points out, the SEC sees Knight "not as a victim of computers gone haywire, but as a firm that failed to test its systems adequately or prepare for potential breakdowns."
"We are pleased to put the events that occurred at Knight Capital on Aug. 1, 2012, behind us," Sophie Sohn, a KCG spokeswoman, said in an e-mail to Bloomberg.
Although the error was triggered by a new piece of software code that Knight was rolling out that day, the ultimate fault was with humans who failed to respond to dozens of warning signals. According to the SEC, an internal system sent 97 e-mails identifying errors inside one of Knight's order routers. While these e-mails weren't designed to be flagged as system alerts, the SEC argues that they gave Knight plenty of chances to fix the problem before the markets opened.
Once the markets were open, that router went on a 45-minute buying spree. Although its customers had submitted just 212 orders, Knight sent more than 4 million orders into the market, trading more than 397 million shares and acquiring several billion dollars of unwanted positions.
For a visual depiction of what Knight was doing, check out this graphic we put together with the help of the folks at Nanex.
Not only does the SEC seem to be paying closer attention to the high-frequency-trading community, it's also arming itself with better technology. The message here is simple: These types of errors can no longer be chalked up to negligence; they're considered reckless and have potential consequences for the entire market.
Before it's here, it's on the Bloomberg Terminal.
LEARN MORE