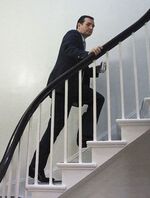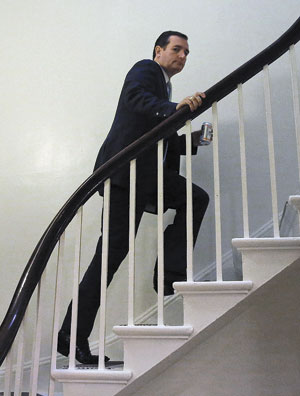 The Republican brand took a beating during the government shutdown. But there's one GOP lawmaker who remains in the good graces of his most loyal supporters: Ted Cruz, the senator from Texas who helped mastermind the failed strategy to defund Obamacare.
In Texas, Cruz's donors say they're pleased with their investment in the senator who made killing the health-care law an integral piece of his 2012 campaign and who on Oct. 16 panned the budget and debt-ceiling deal because it didn't gut the law. "He's doing what he said he would do, and he's not trying to make friends with Democrats or Republicans," says donor Dougal Cameron, who owns Cameron Management, a real estate development firm in Houston. "He's trying to represent the people who sent him up there."
Unlike the state's senior senator, Republican John Cornyn, who collects most of his campaign money from employees at Texas-based corporations including ExxonMobil and Burlington Northern Santa Fe, Cruz doesn't owe his seat to the business community. It was the financial muscle of the Tea Party that propelled the 42-year-old lawyer to victory last year over the Republican Party's establishment candidate, Texas Lieutenant Governor David Dewhurst. Cruz's top donors were two Washington-based activist groups, Club for Growth and the Senate Conservatives Fund, according to the Center for Responsive Politics.
While Cornyn, the Senate Minority Whip, has railed against the health-care law like others in his party, he wasn't as insistent as Cruz about defunding it as a condition for keeping the government open. "Ted Cruz doesn't have to bow down to anybody," says Anthony Holm, a Texas GOP strategist who advised Houston homebuilder Bob Perry, the state's most generous Republican donor before he died this year. "The big Texas donors sat out. As a result, they and establishment powers are in a very weak position to influence his efforts now."
Cruz could have used a procedural tactic to torpedo the debt deal, but he backed off while blaming colleagues for the party's failure to kill the law. "Had Senate Republicans united around House Republicans, the outcome of this, I believe, would have been very, very different," he said on Oct. 16. Days before the showdown, conservatives at the Values Voter Summit in Washington had rewarded Cruz for his brinkmanship: He easily won the Summit's 2016 presidential straw poll, with 42 percent of the vote, blowing away the single digits notched by Senators Rand Paul of Kentucky and Marco Rubio of Florida and Representative Paul Ryan of Wisconsin. (Cruz was born in Calgary, but his mother was an American citizen.) "I applaud [Cruz] for his character," says Tim Von Dohlen, a donor who owns nursing homes in Texas. With no election on the horizon, Cruz raised $1.2 million during the quarter ended Sept. 30.
Billionaire Billy Joe "Red" McCombs, co-founder of Clear Channel Communications, backed Cruz but has some reservations. McCombs, who's given the lawmaker at least $17,500, says he's all for scrapping Obamacare and supports Cruz generally, but, "I don't think stopping the government in its tracks is the place to stage the fight."
Matt Hoskins, executive director of the Senate Conservatives Fund, disagrees, saying Cruz is exactly the lawmaker the Fund bargained for. Nonetheless, it's probably done giving money to Cruz. Instead, Hoskins says, the group will put its dollars toward a new goal: electing more senators like him.
Before it's here, it's on the Bloomberg Terminal.
LEARN MORE