pursuits
Review: Vanilla Ice Goes Amish on DIY Network
Vanilla Ice's rustic home renovation show
By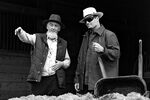 There's a scene in the new DIY Network show, Vanilla Ice Goes Amish, in which the early 1990s rap star marvels at his Pennsylvania host's craftsmanship. "It's old-school. Like, real old-school," Ice says of the marble countertops and kitchen cabinets made from polished wood, not particleboard. The series, which premièred last week, follows Ice as he lives and works with an Amish community, learning their home renovation techniques. "The Amish don't even use nails or screws," says Ice, whose real name is Robert Van Winkle. "I had to learn how to fit two pieces of wood together with a wooden peg. But you know what? It works just as well."
Vanilla Ice Goes Amish may sound like a reality-TV parody (washed-up star plus quirky subculture plus power tools—genius!), but it's actually a spinoff of another DIY hit, The Vanilla Ice Project, a house-flipping show that's filming its fourth season. Ice has worked hard to avoid being a where-are-they-now punch line—in the 15 years since he flamed out of the hip-hop world, he's become an accomplished flipper. He also has an eye for design. There's a moment in Vanilla Ice Goes Amish in which Ice tries to describe feng shui to his new friends. "I call it funk shui cause I like to keep things funky," he says.
Since This Old House premièred on PBS in 1979, real estate and renovation TV has ballooned to include dozens of shows and two entire networks, DIY and HGTV. And the genre has been an accurate (if lagging) indicator of the actual market. After the housing collapse in 2009, HGTV canceled the bubble-bragging show My House Is Worth What? in favor of series such as Real Estate Intervention, which helped distressed homeowners deal with mortgages they could no longer afford.
DIY, which started in 1999, has seen its ratings increase as more homeowners tackle projects themselves instead of hiring expensive contractors. In September the network had its largest audience, with 10.8 million viewers each week. According to media analysis company Horizon Media, DIY's prime-time audience has grown 50 percent since 2010. "I think people are thinking about their homes differently," Ice says. "They used to see it as an investment to flip. Now they think, 'OK, I'm going to live here for the next 10 years. That means I want a new kitchen.' "
Within the do-it-yourself movement, there's a small but forceful push to do everything the old-fashioned way, appreciating the "artisanal" or "heritage" method of smelting your own iron or cutting your own lumber. In addition to the two Vanilla Ice shows, DIY has the forthcoming Bronson Pinchot Project, in which the actor who played Balki on the 1980s sitcom Perfect Strangers restores historic homes. And there are plans for an as-yet-untitled series in which Hall & Oates frontman Daryl Hall renovates an 18th century Colonial.
Vanilla Ice Goes Amish isn't so much an instructional show as it is a chance to watch a regular, 21st century person (who also happens to have dated Madonna) struggle with a stripped-down lifestyle. He doesn't just renovate with the Amish, he dresses like they do, rides in their buggies, and farms with them, too. Clara Hershberger, the woman whose kitchen is remodeled in the first episode, is taken aback by Ice's tattoos, piercings, and tendency to wear T-shirts emblazoned with his own name. The rapper tries to help her with the laundry but has no idea how to work the clothes wringer or hang things on the line outside to dry. "Celebrities never do their own laundry or anything?" Hershberger asks. Ice just laughs and shakes his head no. That's one thing he won't do himself.
Before it's here, it's on the Bloomberg Terminal.
LEARN MORE