Malcolm Gladwell Dominates Airport Bookstores
The author's total domination of airport bookstores
by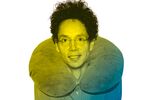 Get ready to be stuck on a plane with Malcolm Gladwell. For all of October, the best-selling author's new book, David and Goliath: Underdogs, Misfits, and the Art of Battling Giants, has occupied front-and-center displays in airport terminal bookstores, those tables where a single title is stacked like Jenga blocks. "David and Goliath is being featured at the front of every store possible—both Hudson News and Hudson Booksellers standalone stores," says Sara Hinckley, vice president for book buying and promotions at Hudson Booksellers, the country's largest airport chain, with locations in nearly 60 airports.
"It's a huge deal and a coveted space," says Tanya Hall, chief operating officer for business book publisher Greenleaf Book Group. In an already struggling industry, airport bookstores operate with unusually low margins: Not only is rent sky-high, but the miniature retail space also limits inventory. So when a Gladwell title comes around—Outliers, Blink, and The Tipping Point have sold more than 4.5 million copies, according to Nielsen BookScan—it's piled high in hopes of selling out.
"Airport travelers, especially frequent flyers, represent a fairly affluent group of people overall: well-educated, with good jobs, and many of them are habitual readers," says Laura Samuels, the vice president for corporate communications at Hudson, who notes that other successful front-and-center titles included And the Mountains Echoed by Khaled Hosseini and Inferno by Dan Brown. "They have time on the plane to read. From a gender standpoint, there are more men than women," she says, making Gladwell, with his large male fan base, especially popular.
According to Hall, the displays in Hudson bookstores are "extremely valuable for business books," even if the book doesn't break even. "You may make it up with just one speaking engagement you got from someone who read your book on the plane," she says.
Little, Brown worked to secure its arrangement with Hudson Group for months ahead of David and Goliath's publication, and more first-run hardcovers were fanned out to Hudson locations than for any of Gladwell's previous releases. The promotion requires Hudson to install cardboard signs directing customers to buy the book online, and Little, Brown provided the bookseller with thousands of special-edition Gladwell bookmarks to toss in as a bonus. "As expected," Hinckley says, "it was our No. 1 bestseller [that first] week." It's also at the top of Amazon.com and Barnes & Noble's bestseller lists, where it's held strong since its Oct. 3 release.
Neither Heather Fain, Little, Brown's marketing director, nor Hinckley will comment on how much the company paid for the arrangement. According to Hall, the typical one-off deal for a month at Hudson's front-and-center display runs in the "several thousands of dollars" per store. They also won't reveal how much of Gladwell's success can be attributed to airport terminals. "But we see the airport as a vital source of sales and also visibility," Fain says. "It's the most bang for your buck, because it's a smaller store, it's more curated, and there's a captive audience."
Little, Brown also bought advertising for the walls of American Airlines Admirals Clubs across the country. "We feel strongly that [Gladwell's] consumer will use those kind of lounges—we don't want to take that for granted," Fain says. "I have never done that for another book."
 
What You Get When You Book Gladwell
Leigh Bureau, the New Jersey agency that books Gladwell's speaking gigs, won't reveal his price tag. In 2008, New York magazine reported, Gladwell charged $80,000 per speech. Five years and two bestsellers later, experts estimate an increase of at least $7,000.
1. Time to plan: Todd Spiczenski, a senior VP at CUNA, a credit union trade association, hired Gladwell to be keynote speaker for the annual Credit Union Conference last July. Spiczenski won't disclose what he paid but says he had to book 11 months in advance.
2. Extra visits: "He met with us a few times before the conference to better understand the credit union industry," Spiczenski says, noting the topic of Gladwell's new book was appropriate: "Credit unions are kind of the Davids," he says. "And the large banks are the Goliaths."
3. Audience engagement: During Gladwell's speech, the audience was encouraged to tweet questions using a conference-specific hashtag. "After Gladwell was done, the MC came out and did a short Q&A, using the questions tweeted throughout the evening," Spiczenski says.
4. Tons of charm: He came back for yet another Q&A, a private event "exclusively for our executive VIPs," says Spiczenski, who says the price was worth it. "Gladwell was a consummate professional," he says. "From our perspective, we got great value on the investment."
Before it's here, it's on the Bloomberg Terminal.
LEARN MORE