IBM: Singing the Big Blues Again
by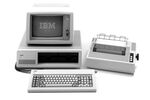 Before Steve Jobs's second tour at Apple, International Business Machines was considered the biggest turnaround in tech history. After all, how many other companies founded in 1911 can boast more than $100 billion in revenue by being the world's largest service vendor and the second-largest software player? Remember Digital Equipment?
Big Blue fought insolvency with creative destruction, vastly restructuring its business focus under famed ex-Chief Executive Louis Gerstner and jettisoning its pioneering personal computer division back when doing so was sacrilege to competitors Hewlett-Packard and Dell, which now rue the day. IBM stock has shown a knack for ascendancy: Over the past five calendar years, the company has increased earnings per share by 16 percent per year, which was well above the 4 percent growth for the broader market during the same period, according to the brokerage firm Cantor Fitzgerald. During the financial crisis, which pounded most tech companies' bottom lines, IBM increased earnings per share by 23 percent in 2008 and 13 percent in 2009. The hulking enterprise of 430,000 workers throws off so much cash that management has bought back hemispheres of the company.
Now Big Blue, a sprightly 102 years of age, must again reinvent, and drastically. On Wednesday night, management had to fess up to sales falling for the sixth straight quarter and the company's hardware business posting a loss. IBM's much-ballyhooed shift to higher-margin software and services—the core of its turnaround story—is now being eclipsed by a slump in sales of servers and other enterprise hardware. The fast-growing emerging economies that were filling IBM's business pipeline are now stalling; IBM posted its first revenue decrease in those markets in its history last quarter. The company's shares, which have the second-biggest impact on the Dow Jones industrial average among the index's 30 members, plunged 6 percent on Thursday and are down this year, compared with the broader market's 20 percent runup.
"We are taking action to improve execution in our growth markets unit and in the elements of our hardware businesses that are under performing," CEO Ginni Rometty said in the quarterly statement.
Red ink is splattered on IBM's income statement. In the first nine months of the year, the multinational lost $713 million in its hardware business, compared with $253 million in profit in the year-earlier period. Chinese sales tumbled more than 20 percent.
The poor near-term results and questions raised about farther-out earning power can't be ignored, wrote UBS analyst Steve Milunovich, in downgrading IBM shares from buy to neutral and slashing his price target from $235 to $186 (the stock now trades at $176). "Normally we would wait out mediocre results in preparation for the bounce back, but there are too many questions this time," he stated. "Although many of the current negatives might reverse as 2014 unfolds, the next few quarters appear difficult and company credibility is at a low."
Overall hardware sales at IBM fell 17 percent in the third quarter. Rometty shook up the division's management in April. Big Blue is increasingly keen to get out of commodity products and expand into higher-margin software-centric ventures.
Executives have been trying to offload parts of the company's server division to Lenovo Group, inheritor of its old PC unit, before discussions broke down in early May due to disagreements over price, people familiar with the matter said at the time. IBM was successful in selling off its customer-service unit to Synnex for $505 million in September. It's also paying more than $800 million to buy Trusteer, a software security company. In July, IBM ponied up nearly $2 billion to take out SoftLayer Technologies, a cloud-computing storage provider that will help it compete with Amazon.com.
But while IBM took in more than $1 billion in revenue from cloud products and services in the latest period, that is a penny-ante contributor to its quarterly top line of almost $24 billion. And this comes as IBM is being investigated by the Securities and Exchange Commission, which is looking into the finances surrounding its cloud business. For all the challenges, IBM on Wednesday did stand by its goal of reaching $20 a share in earnings by 2015, up from $15.25 last year. And the company has $11.2 billion on its current share repurchase program.
How rapidly can Big Blue recapture business fleeing from the familiar realm of big, clunky, square-foot-hogging machines to virtual solutions, out of sight and mind?
The bar is set cloud-high for another big reinvention.
Before it's here, it's on the Bloomberg Terminal.
LEARN MORE