Treasury's Matthew Rutherford Watches Over the Debt Ceiling
The man who watches over the debt ceiling
By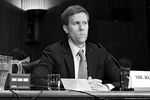 Assistant secretary for financial markets, U.S. Department of the Treasury
Throughout the debt-ceiling debate, one question loomed above all others: When exactly might the U.S. default on its debt? The person who'd know is Matthew Rutherford. As the Treasury Department's assistant secretary for financial markets, he's in charge of managing the country's public debt. Rutherford coordinates the team that tracks the government's daily cash flows, monitoring the bills that come in and the payments that go out in real time. He also runs the Treasury Department's bond auctions, deciding when to issue what amount of debt to make sure the government is financed as cheaply as possible.
This is the third crisis Rutherford has weathered in his five years at Treasury. During the 2008 financial meltdown, the then-30-year-old market analyst had the unenviable task of delivering bad news about Wall Street to Treasury Secretary Hank Paulson first thing each morning. In 2011 he was part of Treasury Secretary Timothy Geithner's inner circle, working nights and weekends through the summer as Congress put off raising the borrowing limit until the U.S. was two days from default. "Matt has a very cool head in times of stress," says Mark Patterson, Geithner's chief of staff from 2009 to 2013. "They're very similar in that regard: high IQ, small ego."
Before it's here, it's on the Bloomberg Terminal.
LEARN MORE