Google Ads Keep Getting Cheaper, and Larry Page Wants More Moonshots
by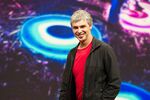 Google's latest quarter beat analysts' expectations for revenue and profit, following the company's dull path of grinding profitability. Here are three things we learned:
Google is selling more ads and getting less for them. Google clocked 12 percent more revenue in the third quarter, compared to the same quarter the year before, and people clicked on Google ads 26 percent more frequently than they did a year ago. But the money that Google gets for each of those clicks dropped 8 percent. This is what happens as people shift to mobile ads, which draw lower rates, says Bloomberg Industries analyst Paul Sweeney. "Everyone is dealing with the same thing. Luckily for Google, they see a lot of demand," he says.
Motorola continues to lose lots of money. Motorola is still bleeding; it reported a $248 million loss in the quarter, compared to $192 million the year before. Google has been slashing the number of people dedicated to the phone hardware company, though. Fewer than 5,000 people now work at Motorola, down from over 17,000 the year before.
Larry Page thinks investors should want more research and development spending, not less. Google's chief executive officer faced questions about the company's much-discussed moonshots. When asked whether Google was perhaps spending a bit too much on things like life-extension, Page turned the issue around and claimed most companies don't spend enough on this. Besides, he said, Google makes so much money that it can't possibly spend enough to make a dent. "While they're—in absolute dollars—probably significant amounts, they're not significant for Google, and I think you should actually be asking me to make more significant investments. I wish I knew how to do that," Page explained. "I think it's actually very difficult to spend kind-of-meaningful amounts of money, relative to Google's scale, on things that are speculative."
In response to a question about the business prospects of self-driving cars, Page revisited the Silicon Valley cliché that people overestimate the amount of change in the short term while underestimating it in the long term. He's sure the bet is going to pay off: "We changed the business from something that was not going to happen at all to something that is inevitable," he said. "It's still a ways from being a commercial product."
Don't assume that Page is completely blasé about burning through the company's coffers. In a belt-tightening move, he said that Google's resources are being wasted when he appears on earnings calls. He told investors that he wouldn't be participating in every call from this point on because it isn't a good use of his time.
Before it's here, it's on the Bloomberg Terminal.
LEARN MORE