A Consumer Hero Returns to Wall Street
Raj Date starts a lender after helping launch the CFPB
By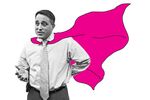 Raj Date has an idea: Regulation and profit needn't be contradictions. His startup, Fenway Summer (Date's a lifelong Red Sox fan), is based on the premise that in student loans, mortgages, and other spheres of consumer finance, it's possible to dream up products that are both acceptable to watchdogs and profitable for lenders. Date is in a position to know—he's the former Wall Street executive who spent two years, from 2011 to 2013, building the controversial Consumer Financial Protection Bureau (CFPB) from scratch into a working agency. He's also in a position to be criticized. That career arc, from private sector to public and back again, has made him a target of accusations that he's taking advantage of Washington's revolving door.
Date (pronounced DAH-tay) was a rare figure inside the Beltway, one of the few bankers willing to forgo pinstripe pay to do public service mid-career—and the meat-grinder treatment he's gotten along the way probably won't encourage others to join him. "When I went from Wall Street into public policy, I was lit up by various publications that were deeply and personally and weirdly—frankly—vindictive," says Date. "And when I went back to the private sector, the exact same publications have been similarly, bizarrely, personally vindictive, and that feels bad. I don't care who you are, it's not at all pleasant."
Date resigned as deputy director of the CFPB in January and in April started Fenway in Washington, hiring several of his former staffers. In July five Republican members of Congress wrote to Date's former boss, bureau director Richard Cordray, expressing their concern over Fenway's plans to invest in a company that originates "nonqualified mortgages"—loans to borrowers who don't meet certain standards for income, debt, credit, and more. Date's CFPB wrote those standards. "Simply put," they wrote, "it appears that former CFPB employees are now offering financial products in a market sector created by the very rules they were in a position to influence."
Date says there isn't anything improper about going into this business: The rules were written in public, and any lender is free to work within them. "The revolving door is a problem," he says, "but it has nothing to do with Fenway. We don't represent anyone before the CFPB. We're not lobbyists."
Nonqualified mortgages are estimated to make up more than $1 trillion of the $10 trillion home loan market. "I'd like to pretend we're the only team pursuing this segment, but that's obviously not true," Date says. Fenway also plans to look for areas where consumers are being fleeced, such as payday loans, and come up with better products. The model, he says, is to "find actual unmet customer needs and be creative and assertive about filling those needs—to take smart risks and be paid for that. It's a startup. Nothing's a sure bet."
The same could have been said about the CFPB. In 2010, when the passage of the Dodd-Frank Act called for the creation of an agency to police the markets for credit cards, mortgages, and other products, Date seemed like a perfect fit. He was an ex-Deutsche Bank and Capital One Financial executive who had left Wall Street to start a think tank, the Cambridge Winter Center for Financial Institutions Policy, where he had published papers on topics from shadow banking to auto loans. As a Harvard professor, Elizabeth Warren came up with the concept of the CFPB. She was President Obama's choice to lead it, and she recruited Date as a deputy. Senate Republicans made it clear they would never confirm her, though, and she eventually returned to Harvard. In her absence, it fell to Date to get the thing up and running.
He had to contend with opposition from not just the Wall Street establishment, which opposed the CFPB on principle, but also the Federal Deposit Insurance Corp., the Securities and Exchange Commission, and other agencies with budgets and turf to protect. Meanwhile, 43 Republican senators refused to confirm President Obama's nominee to lead the bureau, former Ohio Attorney General Cordray, or anyone else unless the president gutted its authority. Cordray eventually got the job by temporary recess appointment in 2012. Date stayed on as his No. 2.
While Warren, now a Democratic senator from Massachusetts, is still the person most associated with the CFPB's birth, the bureau's foes and admirers alike credit many of its accomplishments to Date. "Raj had the kind of lineage that made our clients feel a lot more comfortable," says Alan Kaplinsky, who represents some of the nation's largest banks as head of the consumer financial services practice at law firm Ballard Spahr Stillman & Friedman. "I think the general feeling is if he wasn't there, things could've been a lot worse."
The CFPB boasts that it has obtained $425 million in refunds to consumers wronged by credit-card companies; cataloged some 91,000 complaints on mortgages and other products; and led nearly 750 colleges and universities to adopt a simplified "shopping sheet" for financial aid. "We should all be so productive!" wrote Consumer Reports in July 2012.
"I'd give the bureau an A, and I'd give me personally a C," Date says. "Versus any absolute measure or certainly by any rational measure of expectations, I think the agency was way out ahead of what I could have possibly expected." As for his own middling self-assessment: "I never really learned Washington. I'm no closer to understanding D.C. now than when I got here. Shouldn't I have done that?"
Date admits to the obvious symbolism of the shift from Cambridge Winter to Fenway Summer. "Cold, miserable, gray—that's what it felt like during the crisis," he says. "It was really bleak out there. But even in Boston, the winter ends."
BOTTOM LINE -
The bottom line: Date's startup has drawn scrutiny for entering the $1 trillion non-qualified mortgage market.
Before it's here, it's on the Bloomberg Terminal.
LEARN MORE