Carmakers Unveil Some 2015 Models More Than a Year Early
With a glut of new models, some are unveiled more than a year early
By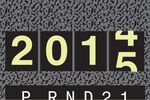 On a rainy evening in early October in Manhattan's trendy Chelsea neighborhood, more than 300 journalists, car dealers, and members of New York's high society crowded around a tiny stage as Grammy-nominated singer-songwriter Ruby Amanfu warmed up the room with soulful tunes about life and love. "Thank you so much," she said after her set as the group awaited the introduction of the evening's featured guest. "We're so honored to be here for the 2015 Cadillac Escalade reveal."
A 2015 Caddy? Already? It used to be that new cars arrived in U.S. showrooms with great fanfare every fall—an annual rite as dependable as the change in seasons. When the Cadillac Escalade SUV first debuted in autumn 1998, it was a 1999 model. But things have changed in the automotive industry. Today, carmakers struggle to time debuts to periods when they will get the maximum amount of press and public attention, much as movie studios vie for a free weekend to première a film without competing productions stealing the spotlight. That's led to model-year creep. "It seems like the next year's cars—almost two years down the road—are getting earlier and earlier every year," says Al Vinikour, who maintains the industry's media event calendar for the Automotive Press Association in Detroit.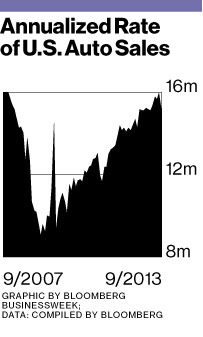 That's especially evident as U.S. automakers rush to take advantage of the industry's post-recession sales surge. With auto sales growing at their fastest pace since 2007, more than 375 vehicle introductions are planned from 2013 to the end of 2015, according to researcher Polk. By contrast, there were 91 introductions in 2010, the year after industry sales fell to a 27-year low.
At this point in 2010, only four 2012-model-year vehicles had been revealed in the U.S., compared with the dozen 2015 models shown through early October, according to Kelley Blue Book, which tracks vehicle introductions. The 2015 models include the Audi A3 teased in March and the 2015 Mercedes-Benz GLA-Class small sport-utility vehicle that was unveiled in September. "That's the way they're trying to build some excitement into an industry that's lost most of its excitement," says John Wolkonowicz, an independent auto consultant and historian. "There's no fall introduction [season] anymore."
U.S. environmental regulations prohibit an automaker from selling a 2015 model before Jan. 1, 2014. The 2015 Escalade is slated to arrive in showrooms next spring. For some consumers, that's an advantage, as a vehicle's depreciation pace accelerates after the arrival of a new model year. "You buy a car in January," says Kelley Blue Book analyst Jack Nerad, "and it's still new for a calendar year."
The fall reveal had its roots in the industry's earliest days, when the Henry Fords of the world tried to appeal to newly flush farmers fresh from their harvests, Wolkonowicz says. "In the old days, they'd soap the windows on the dealership before so it was actually an exciting reveal in every city and town across America," he says. He recalls being a 13-year-old boy in Worcester, Mass., peering through a small hole in a soaped window at his local Chevrolet dealership during the fall of 1964 to sneak a peek at the 1965 Impala sedan. "I remember being blown away," he says.
During the 1980s, the auto industry in the U.S. moved away from revealing new cars at dealerships to using auto shows such as those in Detroit and New York to generate media attention months in advance of rollout. With so many new models coming out throughout the year, that marketing tradition is evolving as well. "Now the trend is to do standalone events and associate them with appropriate lifestyle imagery," Nerad says. "In some ways, I think the car companies are taking the Hollywood movie conception of what a big-time car launch should look like."
That's why—barely a week into the fourth quarter of 2013—General Motors took over the exhibit space at the carriage house of the former B. Altman department store for the unveiling of the 2015 Escalade. The hulking, chrome-laden SUV has long been the muse of rap stars and professional athletes, so the choice of a hip urban setting seemed spot on. Senior GM executives gathered with their entire lineup of Cadillac cars and trucks parked outside as security guards kept watch. It was a night that included a Donald Trump appearance ("It's beautiful," he said after seeing the SUV. "I want to buy one immediately."); a display of Autumn de Wilde's photographs of the designers who worked on the SUV; and Amanfu's performance. The only time the audience seemed restless was when the GM engineers took the stage to talk about "sanctuary quiet" interiors and the magnetic ride control used in the Escalade. But such gearhead details were soon forgotten after Far East Movement blasted the room with its techno beats and young women in tight dresses swayed to the music.
Such glitzy launches are becoming de rigueur, especially for luxury vehicles. Daimler's Mercedes-Benz revealed the redesigned 2014 S-Class luxury sedan in May in an airplane hangar in Hamburg at an event that included singer Alicia Keys and fireworks. And not content to wow prospective buyers on just one continent, BMW unveiled its battery-powered i3 compact car during ceremonies held in Beijing, London, and New York on the same day in July.