Can Coke and Pepsi Overcome Shrinking Juice Demand?
by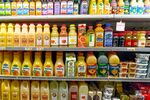 Americans may be trading in soda for healthier alternatives, but it seems like juice isn't one of them. Per-capita juice consumption in the U.S. dropped to 35.5 liters last year, from 39.9 liters in 2007, according to researcher Euromonitor International. It's a complication for beverage makers looking for ways to make up for slowing soda sales.
Juice has been something of a bright spot this year for Coca-Cola, the largest juice and juice drink producer in the U.S. The company reported Tuesday that juice sales by volume in North America were up 4 percent from July to September, including a 7 percent increase for its fast-growing brand, Simply. On Wednesday, No. 2 juice maker PepsiCo reported share gains in chilled juice and strong performance by its new Tropicana Farmstand fruit-and-veggie drinks.
Considering the larger trend, however, it's unclear how long this momentum can be sustained. Retail juice sales in the U.S. shrank 7.2 percent from 2007, to 9 billion liters last year, according to Euromonitor. Recent data show that sales of orange juice, the most popular, are now at their lowest level in 15 years.
"The growing consumer focus on juice's high sugar content has wounded its previously healthy reputation," says a report from IBISWorld, and PepsiCo and Coca-Cola are focusing instead on other soft drinks, such as ready-to-drink tea. The study expects fruit juices to lose share in the beverage market through 2018.
Even the largest brands have been hit. Last year U.S. retail sales of PepsiCo's Tropicana were $1.5 billion, down from $2 billion in 2007, Euromonitor data show. Coca-Cola's Minute Maid sales were down 11.5 percent in that period, to $1.3 billion. Simply, a brand Minute Maid founded in 2001, has been a strong spot for Coca-Cola: At about $1 billion, sales last year were nearly 90 percent greater than in 2007, although they slipped slightly from 2011 levels.
"The Coca-Cola Company," says a company spokeswoman, Lauren Thompson, "is committed to providing a broad portfolio of juices and juice drinks options that are based on the ever-changing needs of our loyal shoppers and retail partners."
One growing segment is premium juices. Sales of high-end brands, such as Naked Juice (a PepsiCo brand), Odwalla (Coca-Cola), and Bolthouse Farms (Campbell), are up. Says Euromonitor analyst Jonas Feliciano, "This move toward higher-priced, lower-volume products has been under way for some time in markets like the U.S., but it has accelerated in recent years." So while consumers are drinking less juice, manufacturers realize that they're willing to pay more for it.
Before it's here, it's on the Bloomberg Terminal.
LEARN MORE