pursuits
Caesars Expands in Las Vegas With High Roller/Linq Tourist Attraction
Is Caesars' massive Ferris wheel a model for overbuilt Las Vegas?
By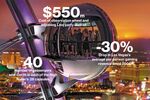 With $23 billion in debt, the most of any U.S. hotel or casino company, Caesars Entertainment wants to expand its business in Las Vegas without dropping a bundle or adding to the glut of rooms in the city. So the owner of eight properties on the storied Strip, including Caesars Palace and the Planet Hollywood casino resort, is placing its limited expansion budget on an unlikely bet: a 550-foot Ferris wheel.
The High Roller, set to make its debut in 2014, and the surrounding Linq "party district," opening in stages starting in December, represent Las Vegas's latest bid to reinvent itself for low-rolling tourists who've grown stingy at the blackjack tables. The $550 million project is transforming the neighborhood into a pedestrian-friendly dining, gambling, and shopping experience, anchored by an observation wheel that Caesars says could outdraw the London Eye observation wheel or the Empire State Building. Despite being in one of the Strip's prime locations, it's a relatively low-stakes wager that reflects the reduced circumstances of gaming operators.
"This is the new model in Las Vegas," says Brent Pirosch, a gambling consultant for commercial-property broker Newmark Grubb Knight Frank and a one-time Caesars adviser. "Ten or 20 years ago these projects would have been considered competition for the bread-and-butter gaming business." Casino operators have good reason to look beyond the gaming tables: The average Las Vegas visitor spent $485 per trip at the slots and tables last year, down 30 percent from $652 in 2006, according to the local convention authority. The amount spent on food, shopping, and shows rose 1 percent to $457.
Burdened by debt from a 2008 private equity buyout, Caesars—controlled by TPG Capital and Apollo Global Management—has been refinancing loans and extending bond maturities while looking for ways to boost profit. It's also trying to raise $1.18 billion through the sale of stock in a unit that will partly own its online gambling business.
Caesars' annual interest expense tops $2 billion, and the High Roller/Linq investment equals almost all the capital it earmarks for the entire company in an average year. "The only way they can really stay afloat is to get an incrementally bigger share of the [Las Vegas] spending," says David Schwartz, director of the Center for Gaming Research at the University of Nevada at Las Vegas. "The secret is not to build more beds, it's to get more people in your restaurants and clubs. It's a smart strategy."
The Linq project, which doesn't add casinos or rooms, marks a contrast to Las Vegas's previous major expansions. In 2009, MGM Resorts International opened CityCenter, an $8.5 billion labyrinth including three hotels with a combined 5,891 rooms, a casino, restaurants, and shopping venues a short distance south of Caesars on the Strip. The goal then was to draw tourists in and keep them there. But CityCenter has only added to the city's room overcapacity.
MGM Resorts, the biggest casino operator on the Strip, announced plans in April to build its own pedestrian-friendly entertainment district between its New York-New York and Monte Carlo casinos. The company will redo the facades of both to mesh with the plaza and add an arena for concerts and sports at a cost of $450 million. "People no longer want to be chained to a slot stool or a theater seat," says MGM Resorts Chief Executive Officer James Murren. "I think the Caesars project is going to be very successful."
Eventually, Caesars will have a nearly mile-long outdoor environment on the Strip connecting its Planet Hollywood and Harrah's properties. Along the way, tourists will pass the Linq, a 250,000-square-foot dining and shopping area that will include the Brooklyn Bowl bowling alley and concert venue and a Tilted Kilt Pub & Eatery. Caesars' Quad and Flamingo casinos will open onto the plaza, says Rick Caruso, a Los Angeles shopping center developer who consulted on it. The mall near the intersection of Las Vegas Boulevard and Flamingo Road—the "50-yard line" of the Strip—dispenses with the idea that casinos need to keep people inside. "There's a natural way people want to live their lives," Caruso says. "They want to be out in the street, having a sense of being in a place that's much more organic."
The High Roller, already visible on the Las Vegas skyline, will be the world's tallest observation wheel. It could carry as many as 4 million riders a year, Caesars says. That's as many visitors as the city's five busiest attractions combined, including the observation deck atop the Stratosphere Casino, Madame Tussauds wax museum, and the faux Eiffel Tower at Caesars' Paris Las Vegas.
The High Roller, with 150 employees, could take in $86 million in annual revenue and earn $60 million before interest, taxes, depreciation, and amortization, according to Caesars. Tickets would average about $21.50. The London Eye draws 3.9 million riders at the equivalent of $32.25 apiece, while the Empire State Building welcomes 3.5 million to its observation deck for $25 each, according to Caesars' analysis.
In September, CEO Gary Loveman told investors that Caesars originally planned to build a casino hotel on the land now devoted to the High Roller and Linq but ditched the idea after seeing how hotels completed since the 2008 financial crisis have depressed room rates. It's become clear, he said, "what you don't need is additional casino-hotel space."
Before it's here, it's on the Bloomberg Terminal.
LEARN MORE