British TV Exports Invade American Video Services
Programming from the U.K. is booming on U.S. video services
By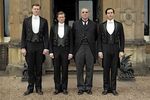 In the 1960s the British Invasion brought bowl haircuts and rock 'n' roll to U.S. shores. Fifty years later a new assault is coming, led by iconic U.K. characters featured on TV shows. Time Warner's HBO, CBS's Showtime, Netflix, and Hulu are among the cable networks and streaming services commissioning, co-producing, and buying rights to expensive British dramas about everything from the loves of Count Dracula to the exploits of Sherlock Holmes.
For decades, U.S. networks gave British shows the cold shoulder, remaking what they liked with American actors and scripts tweaked to fit local humor and sensibilities. Three's Company was first Man About the House in Britain, and Archie Bunker of All in the Family was based on East Londoner Alf Garnett in Till Death Us Do Part. That's changed. More U.K. programming is popping up in its original form on American small screens.
"I've never seen the American market so open to new ideas from elsewhere," says John McVay, chief executive officer of the Producers Alliance for Cinema and Television, a U.K. trade group. "There are lots of channels and content, and broadcasters must hunt things out that are really good." The U.S. market accounts for a greater share of British TV exports than ever—up 50 percent since 2007, to make up almost half, or £475 million ($764 million), of all export revenue last year, according to Pact.
Producers of British shows are determined to keep that number growing. At the Mipcom conference for buyers and sellers of TV programming in early October in Cannes, France, British outfits hungry to sell to the U.S. screened a host of new shows, from British Sky Broadcasting Group's family drama Moonfleet and The Tunnel, a crime series it made with France's Canal+, to ITV's Breathless, a six-part drama following a group of London doctors and nurses. "For the broadcast networks, the big ones, it's become all about the shows that define them, and they spend a lot of money on shows that fulfill that," says Cathy Payne, the head of worldwide distribution for Dutch production house Endemol.
The latest British invasion was primed by long-running exports like Doctor Who, the tale of an alien who time-travels in a blue British police box, and the more recent period drama Downton Abbey, which found wide success on PBS in America. Now the biggest U.K. broadcasters—British Broadcasting as well as ITV and BSkyB—are increasing their investment in original content in hopes of selling more valuable international rights to broadcasters in the U.S. and other territories. Those deals can often translate to one-third of revenue for a production.
A U.K. tax break introduced in April is helping. The credit allows big-budget productions, those where costs run £1 million or more per episode, to recoup 25 percent of expenses. The lucrative incentive is aimed at helping locals compete with Hollywood production companies and at assuring that TV projects will continue to be made in Britain. BSkyB, controlled by media mogul Rupert Murdoch's 21st Century Fox, has pledged to spend £600 million a year on British productions by 2014, compared with £380 million in 2011. The company bought a distribution arm for such shows 18 months ago. "We decided that if we were going to aspire to the creative levels of HBO, we needed to ensure we could put the right amount of money on-screen to deliver that," says Sophie Turner Laing, BSkyB's managing director of content.
Nonetheless, Turner Laing says she doubts British TV dramas will gain much traction with mainstream U.S. broadcast networks such as Walt Disney's ABC, Comcast's NBC, and 21st Century Fox's Fox, which invest heavily in productions calculated to attract the most dollars. For them, airing a foreign show in prime time could be riskier than it would be for many pay-TV channels that don't rely on advertising. "While the networks are incredibly open to ideas and pitches, whether they will go to a British, French, or Aussie show in prime time is a big stretch," Turner Laing says.
The need for content has fueled a boom in co-productions. They rose 60 percent last year in Britain, with partnerships between BSkyB and Showtime, ITV and Masterpiece, and the BBC and Hulu, according to Pact. Cable channel Starz Entertainment's Dancing on the Edge, a joint venture with the BBC about London jazz bands in the 1930s, begins on Oct. 19 after first showing in the U.K. in February. NBC will air its Dracula co-production with BSkyB, starring Jonathan Rhys Meyers, on Oct. 25.
The BBC and Hulu will unveil The Wrong Mans, a comedy-thriller about ordinary office workers caught up in a deadly criminal conspiracy, on Nov. 11. And Doll & Em, a BSkyB production featuring Emily Mortimer, one of the stars of HBO's The Newsroom, has been picked up by HBO.
"I think both sides of the Atlantic have learned from each other," says Starz CEO Chris Albrecht. "There's a proliferation of indie producers in the U.K. that started to throw off some pretty sophisticated shows as the original programming market in the U.S. began to expand." Starz has been airing the 10-episode BBC drama The White Queen, which is averaging 5.2 million viewers per episode. Albrecht says the show is among the network's most highly rated.
"People are tired of [reality shows] X Factors and Big Brothers," says Helen Jackson, the head of content at BBC Worldwide, the public broadcaster's commercial arm. "Drama is reinventing that space with a more global approach, international talent, and big universal stories to tell."