Booker Bests Tea Party's Lonegan in N.J. for Senate Seat
Terrence Dopp and Elise Young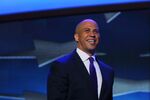 Newark Mayor Cory Booker beat the Tea Party-backed Republican Steven Lonegan in New Jersey's special U.S. Senate election, after a race the candidates cast as a referendum on the partial federal government shutdown.
Booker, 44, topped Lonegan, 56 percent to 43 percent, with 58 percent of precincts reporting, according to the Associated Press, which declared the Democrat the winner. He was elected to serve the remaining 15 months of the term of Senator Frank Lautenberg, who died in June at age 89.
As recently as August, Booker led in polls by more than 20 percentage points in the race for the seat held by Lautenberg, a five-term Democrat. Lonegan had narrowed the contest in closing weeks after calling Booker a champion of costly government, and accusing him of being more focused on the national spotlight than on New Jersey. Lonegan, 57, said fellow Republicans "showed guts' by forcing a shutdown that started Oct. 1 after lawmakers couldn't agree on a budget, and was embraced by the Tea Party, a limited-government group.
Following the close of voting, the state division of elections will review official results from each of New Jersey's 21 county clerks and the Board of State Canvassers will certify the results on or before Nov. 13, said Donna Barber, the state's manager of elections. She said the Senate will need to decide when the winner is seated.
New Jersey voters haven't elected a Republican to the U.S. Senate since 1972. Booker, a darling of Wall Street executives and West Coast technology entrepreneurs, raised $11.5 million during the race, more than eight times Lonegan's $1.36 million.
A Rhodes Scholar and Yale University-educated lawyer who moved to Newark in 1996, Booker spoke at the 2012 Democratic National Convention and helped lead its platform committee. He gained national attention last year for saving a neighbor from a fire and for living on food stamps for a week to show the difficulty of relying on the government-assistance program.
Booker, a prolific Twitter user with 1.4 million followers on the social media website, cast himself himself as a new kind of politician who would bring change to Washington. His campaign seized on Lonegan's support for Republican politicians such as U.S. Senator Ted Cruz that he blamed for the shutdown.
His efforts to add development and reduce crime in New Jersey's largest city lured investments from Facebook Inc. co-founder Mark Zuckerberg and hedge-fund managers including Bill Ackman and Leon Cooperman. Booker was endorsed by President Barack Obama, and several celebrities gave him financial backing and campaign assistance, including Oprah Winfrey and actress Eva Longoria.
Lonegan, who is legally blind, failed in bids for the U.S. House of Representatives in 1998 and for governor in 2005 and 2009. From 1996 to 2008 he was mayor of Bogota, a Democratic-leaning borough of 8,000 people six miles (10 kilometers) west of Manhattan. He used the job as a platform for smaller government, successfully suing the state in 2003 to require voter approval of bond sales.
Before it's here, it's on the Bloomberg Terminal.
LEARN MORE