American Funds Defends Active Investing After Massive Investor Retreat
After a slump, Capital Group tries to make the case for stockpicking
by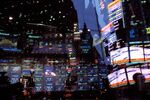 On the eve of the financial crisis, Capital Group was king of the mutual fund business—even though most investors had never heard of it. The Los Angeles-based company's American Funds unit ran seven of the nation's 10 biggest funds, including the largest of all, the $193 billion Growth Fund of America. Eagerly sold by brokerages such as Merrill Lynch and Edward Jones, the funds had no need for mass marketing to attract investors and even less for media attention. Capital Group has issued only three press releases in its 82-year history and politely declines most requests for comment. The idea was that the blandly named funds' outstanding returns spoke for themselves.

Not anymore. After skating through the dot-com stocks fiasco with little damage, American Funds has had a brutal stretch. Its five largest funds as of Dec. 31, 2007, have all underperformed the Standard & Poor's 500-stock index through Sept. 30, and investors have pulled out $246 billion over that time.
After watching a quarter-trillion dollars walk out the door, the fund company went on a charm offensive in September. It reached out to the financial press to publicize a study hyping its long-term performance figures and to make the case for its brand of active stockpicking. "After decades of really great success, they hit a wall and suffered subpar performance in the 2008-2009 period," says Burton Greenwald, a mutual fund consultant. "They've got a lot of mending to do in terms of their reputation."
The firm's approach—choosing stocks by looking at individual companies' financial data—has taken a beating at the hands of indexing, the passive method championed by John Bogle and the company he founded, Vanguard Group. Bogle argues that the average active manager, after fees, fails to beat the overall market. Active managers who do outperform, he says, can't repeat the feat with enough predictability to make their funds good long-term investments.
Judged by the flows of investor cash, Vanguard has been winning the argument. Since the end of 2007, it has gobbled up $613 billion, mostly in its index mutual funds and index-tracking exchange-traded funds. While the two companies managed roughly the same amount of money in funds before the crisis, Vanguard now oversees twice as much—$1.8 trillion. Vanguard's Total Stock Market Index fund is now the nation's second-largest, with about $240 billion in assets, after Pimco Total Return. "Capital Group has been harmed by their reluctance to respond to the competition from ETFs," says Daniel Wiener, chief executive officer of Adviser Investments, based in Newton, Mass. "At some point they have to take a more aggressive stance" in promoting their brand and their way of investing.
Capital Group Chairman James Rothenberg doesn't dispute that. "The only voice that's been out there is the passive voice," he says. "We don't entirely agree that the answer for all people is indexing. In fact there can be a significant advantage to active investing." Rothenberg backs his words with the in-house study. Using data from research firm Morningstar, the study examined 17 of the company's mutual funds that invest in stocks or both stocks and bonds. It measured their performance over every 1-, 3-, 5-, 10-, 20-, and 30-year period, on a rolling monthly basis, from Dec. 31, 1933, through Dec. 31, 2012. The results show the funds beat their benchmark indexes in the majority of almost 30,000 periods over the past 80 years, Rothenberg says. That included 57 percent of one-year stretches, 67 percent of five-year periods, and 83 percent of 20-year ranges.
Rothenberg says he isn't defending all active investing, and he concedes that American Funds have underperformed in some periods. But he's annoyed that some think that active management can never beat passive management. "We have a body of data that suggests something different," he says.
It's not clear whether the study will persuade investors to return to American Funds. The company isn't taking out ads to trumpet the findings, and after his brief press tour Rothenberg is not doing further promotion. Meanwhile, the overall record of active management remains indisputably poor. According to Morningstar, only 45 percent of actively managed equity mutual funds beat their benchmarks over the five years through Sept. 30.
Before it's here, it's on the Bloomberg Terminal.
LEARN MORE