Why Ahrendts Is Leaving Burberry at a Terrible Time
By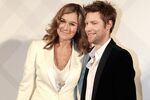 Christopher Bailey has had a celebrated tenure as a Burberry designer—a standing ovation, confetti-on-the-runway success. But investors clearly don't think the chief executive's role will be a good fit.
In the day and a half since Bailey was tapped for the top job vacated by Apple-bound Angela Ahrendts, Burberry shares have dropped almost 10 percent. There's a big difference between a brilliant chief creative officer and a top-flight chief executive officer, analysts and fashion fans noted.
Ahrendts gamely tried to mitigate the damage and quell concern. "Burberry is in brilliant shape," she said in announcing her resignation. It has a wide and talented management team and is carrying "sensational brand momentum."
That all may be true, but her departure comes as the company is negotiating a few tricky moves. Most notably, Burberry is in the process of folding in-house its entire fragrance and beauty line, products that until April were provided via a licensing deal with Interparfums. Just last month, for the first time, the company launched a fragrance it made from scratch, Brit Rhythm for Men. And it has a string of similar new products in the pipeline.
In other words, Bailey and his team will be hunting for suppliers and building a bunch of supply chains, distribution networks, marketing campaigns, and pricing strategies. These are the kinds of things that test the most seasoned executives. Creativity will be the least of their worries.
Burberry beauty is no small bit of business, either. The line, which includes lipstick, nail polish, and perfume, accounts for roughly 5 percent of Burberry sales.
The company is also about to overhaul its business in Japan. Its apparel license with Sanyo Shokai and Mitsui & Co. will expire in June 2015. Burberry has had some version of those agreements since 1970, and they have accounted for roughly 3 percent of Burberry sales of late.
Cutting licensing ties and building vertical integration is a great way for a company to take a firmer hold of its brand and its product. Indeed, that's what Ahrendts crowed about when she announced the two big strategic shifts. But from a management perspective, licenses are a lot easier to handle than the entirety of a product line.
Barclays analysts joined a chorus in questioning whether Bailey was up to the task. Their analysis, like Burberry itself, was sharp and British: "The timing of this resignation is unlikely to be taken well."