The U.S. Postal Service Is in Even Worse Shape Than You Think
By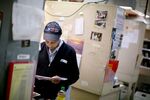 The U.S. Postal Service's fiscal difficulties have been well publicized. The agency lost $15.9 billion last year. Its leaders are pleading for the power to end Saturday letter delivery and restructure its employee health benefits to save money. The situation, however, is far worse than most people realize. Last week the conservative Heritage Foundation released a study that put it into grim prospective. The study's broad conclusion: The USPS may not be salvageable in its current form.
It might be tempting to dismiss the report, Can The Postal Service Have a Future?, seeing how it comes from a think tank that's openly hostile to government spending and union complaints, both of which are front and center in the Postal Service saga. My colleague Josh Green recently chronicled Heritage Foundation President Jim DeMint's behind-the-scenes role in shutting down the government in an effort to defund the Affordable Care Act. Carefully weighing opposing points of view isn't Heritage's calling card.
But the study by James Gattuso, senior research fellow for regulatory policy at the Heritage Foundation and a former contributor to Bloomberg Government, is worth reading because it relies primarily on the USPS's own numbers, which are publicly available but rarely discussed in the current debate about the agency's prospects. They illustrate the massive erosion of its business:
• Letter Writing Is Disappearing. "Since 1987, the number of such letters received per household has plummeted 80 percent," Gattuso writes. "The total volume of such mail has declined by 25 percent since 2010 alone."
• The Greeting Card Industry Needs a Sympathy Note. "The number of mailed greeting cards is also dropping, with roughly half as many received now than in 1987, and 10 percent less since 2010."
• The Internet Is Decimating Paper Bill Paying. "As late as 2002, 75 percent of all bills were paid by mail and only 17 percent were paid electronically," Gattuso says. "In 2012, by contrast, the Postal Service reports that 56 percent of bills were paid electronically and only 40 percent by mail. (The rest were paid in person.)"
• The Future Gets Bleaker. "The Government Accountability Office (GAO) has estimated that total volume could fall to 127 billion pieces by 2020, a 60 percent drop from 2006, and 20 percent less than current volume."
• Packages Won't Save Them. "From 2009 to 2012, the total number of packages delivered by the USPS has grown by over 7 percent. Package delivery, however, still generates only about 20 percent of the USPS's total revenue, and in the overall package delivery business, the Postal Service is a minor player, with about 8 percent of the market, compared to 60 percent for UPS and 30 percent for FedEx."
Unsurprisingly, Gattuso supports the U.S. Postmaster General Patrick Donahoe's reform proposals and those advocated U.S Representative Darrell Issa (R-Calif.), which include ending Saturday delivery and moving from door-to-door service to having carriers deposit mail in neighborhood "cluster boxes." But he goes further, saying the USPS should relinquish its monopoly on first-class mail delivery and allow private companies to compete for this business. That's unlikely to happen soon. His argument that the USPS is in need of a drastic overhaul is less easily shrugged off.
Before it's here, it's on the Bloomberg Terminal.
LEARN MORE