Scene Last Night: Rachael Ray, Ira Rennert, James Tisch
Amanda Gordon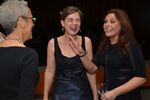 Rachael Ray talked about birthday cake last night with four children serving green-tomato gazpacho to guests at the Sylvia Center benefit.
Ray said she likes hers to be dark, dark chocolate, "and if it has nuts, all the better." There were votes for vanilla and red velvet, too.
The kids wanted to talk about vegetables. Really. Ray's Yum-o! Foundation, which was honored at the event, has given $200,000 to the Sylvia Center to help teach 2,000 children how to cook and eat nutritiously. Classes are held at New York City Housing Authority community centers.
Yariel Cruz, 11, eats a lot of celery, which he learned to cut while keeping his hand in a "bear claw," he said. He took his Sylvia Center classes in Williamsburg, Brooklyn. Raymond Jones, 8, said he likes tomatoes because they're "juicy, sweet and good for your body."
Ray told the kids and the few hundred guests at Sotheby's bidding room in Manhattan that her grandfather wouldn't have been able to afford to feed his large family if he didn't have a garden of his own.
She has a knack for talking about food to kids. On her Yum-O! Foundation website is a recipe for "pasta with trees" (that's broccoli).
Liz Neumark, the founder of the Sylvia Center, is chief executive of Great Performances, the catering company. In her cookbook, "Sylvia's Table," almost every recipe has loving instructions for getting kids involved in the kitchen. For spanakopita, they can fold the filled pastries into triangles. To make lemon-rosemary custard cakes, they might separate eggs and juice lemons.
Fetching Eggs
The book -- handed out to guests -- is filled with beautiful photographs of Katchkie Farm in Kinderhook, New York, where children from the city go to fetch eggs and harvest eggplant and apples.
Neumark founded the farm and Sylvia's Center in honor of her daughter Sylvia, who died in 2004 at the age of six. She said she was gratified that what began as a personal project has become something much bigger.
Bush Speaks
The Conference of Presidents of Major American Jewish Organizations Fund held a gala last night at the Waldorf Astoria, drawing more than 1,000 guests. The keynote by former President George W. Bush was closed to press.
James Tisch, Mortimer Zuckerman and Ronald Lauder were among those honored for serving as chairmen of the organization's board. Ira Rennert and John Shapiro were also present at tables decorated with Israeli and U.S. flags.
Erez Raphael, chief executive officer of LabStyle Innovations Corp., said he is working on a product for diabetics that will make glucose metering easy and simple.
(Amanda Gordon is a writer and photographer for Muse, the arts and leisure section of Bloomberg News. Any opinions expressed are her own.)
Muse highlights include Manuela Hoelterhoff on TV and Farah Nayeri on film.
Before it's here, it's on the Bloomberg Terminal.
LEARN MORE