Never Shop in October and Other Secrets From a Retail Guru
By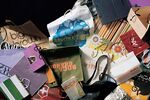 Mark Ellwood, a journalist and former travel guide author, has a simple shopping mandate: Never pay full price. There's simply no need, a point Ellwood illustrates at length in his new book, Bargain Fever: How to Shop in a Discounted World.
For the first time in more than a century, American consumers can readily barter—in a sense—thanks to price-checking apps, discount clubs, and a raft of free-shipping offers. At the same time, Ellwood says, there is a sheer glut of supply: more products, from more companies, in more flavors and shapes and colors and sizes than the world has seen before.
The flip side is retailers are more sophisticated than ever. Bargain Fever notes that an individual's willingness to spend—the economist's holy grail—has been largely uncovered by data mined from the depths of websites and credit-card transaction logs. Meanwhile, scientists have honed how to chemically make people more willing to buy by triggering dopamine and other feel-good hormones with surprise coupons, "friends and family" deals, and other spending cues.
Frankly, Ellwood's book is equal parts frightening and empowering. With holiday sales looming, Businessweek met up with Ellwood for a quick bit of retail reconnaissance to gather his strategies for savvy shopping. Here's what he had to say:
1. Never shop in October or April. This was Ellwood's first piece of advice as we set off on a tour of Manhattan's Union Square area on a brisk day last week. In April, retailers are primed to get your tax-refund money, which is psychologically filed away as a "bonus" rather than hard-earned income that should be squirreled into savings or used to pay down debt. October, meanwhile, is a slim window when retailers are desperate to plump up profit margins between the back-to-school and holiday rushes, those frantic periods when they are forced to cut prices to win market share.
 
2. Watch out for threes. Consumers like choices, but too many choices put them off. Three seems to be the magic number, Ellwood explained as he swept through Best Buy and pointed out trios of products: cell phones, computers, big-screen TVs. Three choices is also a handy way for retailers to steer a shopper to a particular product. The middle option is usually quite a bit cheaper than the product on the right and only slightly less good, while the product on the left is only slightly cheaper than the one in the middle. Ellwood calls it "Goldilocks" pricing because the choice in the middle feels "just right." His advice: Always buy the one on the left.
 
3. Beware the "fake" markdown. Stop No. 2 was Nordstrom Rack where virtually every tag had a price crossed out with a significantly lower price below it. But the tags didn't say the nixed price was "original" or "retail," they simply read: "Compare at." "What does that mean?" Ellwood asked. "Nothing. Almost none of these clothes ever sold at those prices. It's just a way that they can legally imply they did."
(Brooke White, vice president of corporate affairs at Nordstrom, disagrees with Ellwood's assertion. Not all of the Rack clothes sell at the higher, "compare at" price in Nordstrom locations, she says, but the company makes sure that they at least sold at that price in a competing store "for a reasonable period of time.")

4. Drop the anchor. Our savings spy mission continued at J.Crew, where Ellwood pulled off the rack two fairly similar dresses. One cost almost $400, while the other was about $140. He shook the expensive dress: "They don't really expect anyone to buy this one, but it makes this one (dress No. 2) seem much more affordable." The concept is known as anchoring and has been used to great effect.
 
5. Ask nicely. Ellwood's top tip has nothing to do with pricing strategies or sales psychology. It's a simple ploy to throw some humanity into the endless data that stitch together 21st century retail. Right before pulling out the plastic, he asks some derivation of the following: "Is that the best you can do?" Another version that works well: "I'm such a flake. I haven't checked my e-mail in ages—are you running any promotions or sales?" Every major retail company in the world is stocked with pricing consultants, behavioral economists, and executives trained at tweaking margins. None of those folks, however, is actually ringing up purchases. At least, not yet.