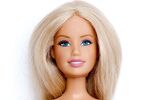 Barbie might not be the hottest doll anymore, but the 54-year-old babe is still attractive to plenty of shoppers. Mattel this morning said sales of Barbie products increased 3 percent in the third quarter, and the toymaker's other dolls did far better.
Doll sales, including the "Monster High" toys—dolls envisioned as the daughters of Frankenstein, Dracula, and so forth (no relation to the Disney blockbuster Monster's University)—were up 28 percent. The "American Girls" line drew 20 percent greater business.
Barbie's business bump may seem dowdy in comparison, but she's had a tough year. Mattel's worldwide tour to burnish her brand was quickly met with protests organized as an "Occupy" movement. Topless women picketed Barbie's life-sized "Dreamhouse" attraction in Berlin, claiming the toy was "oversexualized" and a bad example for young girls. The protesters must have thinned quickly because Barbie posted a 6 percent increase in international sales in the recent quarter.
The rising demand gives Mattel some rare momentum going into the holiday season. While big-box retailers such as Costco and apparel stores such as Gap are struggling, the toymaker is simply riding hot products. The "I-want" whines of children, apparently, are a foil for flagging consumer confidence.
Before it's here, it's on the Bloomberg Terminal.
LEARN MORE