Mary Jo White Is the Woman Who Makes Wall Street Admit Guilt
The SEC chair wants companies to fess up when they break the law
By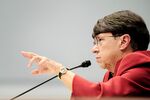 When Mary Jo White became chairman of the U.S. Securities and Exchange Commission in April, colleagues joked that she's the sort of person who doesn't sleep and lives on canned tuna. The former federal prosecutor and head of litigation at Debevoise & Plimpton brought new energy to the agency that oversees Wall Street, projecting a toughness from the day she arrived. Through public statements and the SEC's recent handling of two high-profile settlements, White made it clear that the days when bankers could pay a token fine to get the government off their backs were coming to an end. For serious violations, companies looking to settle with the SEC will have a choice: admit guilt or face her in court.
"Public accountability in particular kinds of cases can be quite important," she said at a press conference in June, "and if we don't get [admissions], then we litigate them." Her deputy, Andrew Ceresney, whom she brought from Debevoise to be the SEC's co-director of enforcement, echoed her views: "The enforcement division is becoming more aggressive," he said at a panel discussion on Oct. 15. "I like to say the SEC is back and better than ever."
White has been on the job for only six months, but the tone she's set can already be felt across Washington. Following her lead, other agencies and federal prosecutors are also demanding guilty pleas and enormous fines. On Oct. 16, JPMorgan Chase agreed to pay $100 million to the U.S. Commodity Futures Trading Commission to settle an investigation of the London Whale trades. On top of the fine, the bank was required to admit that its traders acted recklessly as they tried to limit the damage from the firm's disastrous, money-losing position in a credit-default index. The agreement came after a standoff in which the bank initially resisted admitting wrongdoing, prompting the CFTC to prepare a lawsuit.
White isn't the first person inside or outside government to suggest that regulators should extract such admissions, "but she's certainly pushed it further," says Peter Henning, a professor of securities law at Wayne State University. "She has made this more of a focal point."
A week after the CFTC agreement, JPMorgan is facing the prospect of a record-setting $13 billion settlement with the U.S. Department of Justice over sales of problematic mortgage securities in the lead-up to the financial crisis. One sticking point in the negotiations between JPMorgan Chief Executive Officer Jamie Dimon and Attorney General Eric Holder, according to the New York Times, was Holder's demand that the bank plead guilty to a criminal charge.
With a background prosecuting securities fraud and terrorism cases as the U.S. Attorney for the Southern District of New York and years in high-end white-collar defense, White quickly drew the wary curiosity of bankers. As guilt momentum has grown over the last few months, her name elicits fear—and resentment—on Wall Street; one industry defense lawyer who prudently asked not to be named compares her to Rambo.
The SEC has typically allowed companies to include "neither admit nor deny" wrongdoing language in their settlement agreements with the government. This let the agency send a warning while avoiding protracted litigation, but it left the SEC open to criticism that it was weak—or worse, in the pocket of the industry it is supposed to keep honest. Wall Street came to see the fines it paid to make the government go away as a cost of doing business, a payoff to regulators that had little symbolic impact and zero deterrent effect.
In 2011, Jed Rakoff, a federal district court judge in New York, threw out the settlement of an SEC case against Citigroup over the sale of mortgage-backed securities. Without some acknowledgement of culpability, Rakoff argued, the $285 million Citigroup had agreed to pay didn't mean much. In another SEC case, Rakoff said the policy was "a stew of confusion and hypocrisy unworthy of such a proud agency as the SEC."
That complaisance changed when White took over. The two cases the agency has settled with admissions on her watch are instructive. In 2012 the SEC accused Philip Falcone of Harbinger Capital Partners of manipulating bond prices and using assets in his hedge fund to pay his taxes. In May 2013, right after White's arrival, he disclosed that he had reached an agreement the month before with the agency's enforcement staff that required him to pay an $18 million fine (a tiny amount for a billionaire) and refrain from raising capital for two years, all without admitting or denying wrongdoing. The agreement would have left his fund largely intact, and it was sharply criticized at the time as being too lenient.
In July the majority of the SEC's commissioners, including White, rejected the punishment, demanding more accountability. A few weeks later, Falcone capitulated to the new reality at the SEC. His fine remained the same, but the new settlement he reached with the agency featured admissions to most of the SEC's charges, including that he improperly borrowed $113 million in fund assets to pay his taxes. "I believe putting these issues behind me now is the best course of action for me and our investors," Falcone said at the time.
Concern about further litigation or penalties is one of the reasons Wall Street firms are reluctant to admit wrongdoing, and Falcone immediately felt the harsh repercussions. The New York State superintendent of financial services banned him from controlling insurance companies in the state for seven years and said he couldn't serve as a director at an insurance company owned by his fund. "That first settlement, that was very favorable to him," says Henning. "I think that's one where you really see the fingerprints of Mary Jo White. She wasn't going to let that go through."
The SEC's second admission-of-guilt case since White's arrival came after a yearlong investigation of JPMorgan's London Whale trades (separate from the CFTC's probe), which caused $6 billion in losses last year. White recused herself from voting on the case, citing potential conflicts of interest from her time at Debevoise, but her mandate was still felt. In September the bank agreed to pay $200 million and admitted to violating federal securities laws.
Wall Street critics complained that the settlement, which didn't name any executives, was carefully phrased to protect the bank from private lawsuits, which has led to speculation about whether White herself could have extracted more if she'd been directly involved—or if the SEC is too hard to transform, even for a determined leader. "Mary Jo White has clearly changed the tone, and what she's had to say is encouraging to anybody who wants the SEC to not only be successful, but be restored to its storied place as a protector of investors and markets," says Dennis Kelleher, president of the Washington nonprofit Better Markets. "But words don't mean anything—only concrete consistent action counts. It's the only thing Wall Street will ever pay attention to."
BOTTOM LINE -
The bottom line: White has warned banks they can no longer just pay a fine to settle SEC cases—they'll also have to admit wrongdoing.
Before it's here, it's on the Bloomberg Terminal.
LEARN MORE