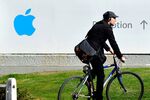 German demands for austerity could soon accomplish what an outraged Congress could not—an end to legal loopholes in Ireland that have allowed U.S. giants, such as Apple and Google, to pay little or no income tax by transferring profits to Irish subsidiaries.
Ireland announced on Oct. 15 that it would close a loophole that allowed Apple to pay only a 2 percent tax rate on €40 billion ($54 billion) in income in recent years.
A Senate report on Irish tax loopholes stirred an uproar in Washington last May, with Apple Chief Executive Tim Cook summoned to a Capitol Hill hearing where he denied the company had used "gimmicks" to avoid taxes.
But nothing changed in Dublin—until now. As German Chancellor Angela Merkel and her Christian Democratic Union move to form a coalition government, Berlin is sending word that Ireland must overhaul its corporate tax regime if it wants European aid for its troubled banks.
The regime "is under siege," Michael McGrath, finance spokesman for the opposition Fianna Fail party, tells Bloomberg News. "None of us should be complacent about the mutterings we are hearing from Germany."
Germany's key demand is that Ireland raise its low 12.5 percent corporate tax rate. So far, Dublin is standing firm against raising the rate. The government says, however, that it will close the so-called Apple loophole, in which the U.S. company transferred profits to Ireland but didn't declare tax residency there, enabling it to avoid paying either Irish or U.S. income tax.
In a comment e-mailed to Bloomberg News, the chief authors of the Senate report, Carl Levin (D-Mich.) and John McCain (R-Ariz.) called the closure of the Apple loophole "encouraging" but said questions remained "whether new rules will continue to allow Irish subsidiaries to dodge taxes."
The change announced by Dublin won't affect another widely used loophole, known as the double Irish, in which multinationals transfer profits to a subsidiary in Ireland and then onward to a second Irish subsidiary, nominally managed and controlled from a low-tax or no-tax jurisdiction. Google has used such an arrangement with a Bermuda subsidiary.
Berlin is likely to keep up the pressure for additional changes. Andrea Nahles, general secretary of Germany's opposition Social Democratic party, which is in coalition talks with Merkel's CDU, said on Oct. 15 that Ireland's corporate tax rate is "simply too low."
Before it's here, it's on the Bloomberg Terminal.
LEARN MORE