George Washington Plan Cuts Academic Red Tape
Francesca Di Meglio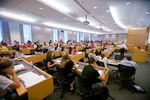 It may soon be possible for business students at George Washington University to sample a greater variety of nonbusiness courses.
The GWU administration is working this year to eliminate obstacles that prevent undergraduates from taking courses outside their home colleges, including the School of Business, according to an Oct. 7 story in the Hatchet, an independent student newspaper.
Currently, business students cannot take more than 21 credit hours in other schools. The goal is to get rid of such limits to encourage students to take courses in other subject areas, even those far removed from business, such as philosophy or literature.
The change is part of the university's greater strategic plan, which includes a number of other changes. One of the most substantial is a change in how freshmen are admitted to their majors.
GWU's business school currently accepts freshmen directly into the program. In the future, applicants to the university will list a preferred major, but freshmen will no longer be admitted directly into any of the university's five schools, reports the Hatchet. Those who indicate they would like to major in business will have an adviser from that school, but they will be able to take non-major courses more easily.
Students will also have an easier time switching majors. Advisers will get additional training, according to the Hatchet, to gain an understanding about other areas outside their expertise, so they can help students choosing between two programs.
Join the discussion on the Bloomberg Businessweek Business School Forum, visit us on Facebook, and follow @BWbschools on Twitter.