Entrepreneurship Is Contagious. That Means the Poor Need to Meet Gazelles
By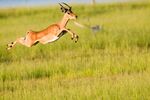 There's been a lot of academic research highlighting the differences between two types of entrepreneurs: those building so-called gazelles, or fast-growth companies that lead to thousands of jobs, and those running smaller, local businesses who often seek simply to earn a living.
Another big difference between the two types of entrepreneurs: People who make less than $25,000 and those who make between $100,000 and $149,999 were both more likely to know an entrepreneur than respondents in other income brackets. Those in the higher income bracket were almost twice as likely to know a "growth entrepreneur" than the poorest survey-takers. That's according to survey results published today (pdf) by the Kauffman Foundation.
The findings are consistent with "studies showing that subsistence entrepreneurship is fairly common among lower-income Americans, but growth entrepreneurship is troublingly rare," writes the paper's author Paul Kedrosky, a Kauffman fellow who is a contributing editor to Bloomberg Television. Also troubling: Men were almost twice as likely as women to know growth entrepreneurs.
Kedrosky didn't set out to chart the socioeconomic circles that different types of entrepreneurs travel in. To find out whether "entrepreneurship is imitative behavior," he conducted two surveys. One asked respondents if they knew any entrepreneurs, the other asked if they knew any gazelles. Taken together, the surveys suggest that knowing an entrepreneur is a "significant factor" in whether a person starts a business.
That seems fairly intuitive. It's also a potentially useful finding, suggesting that "doing a better job of exposing people to entrepreneurs" can help economic development efforts. In other words, getting would-be entrepreneurs, rich or poor, together with people running growth companies could help encourage more gazelles.