pursuits
Delay Keeps Watch Dogs out of Grand Theft Auto's Shadow
By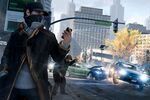 The gaming industry is going to have to exercise its capacity to endure some delayed gratification. On Tuesday, Ubisoft, which is developing one of the most anticipated games for the spate of gaming consoles coming out later this year, said Watch Dogs won't be ready by its November release date. Ubisoft now says the game will be ready next spring. It also delayed another game, The Crew.
In a blog post, Ubisoft said it was a tough decision. No kidding. The company followed the announcement with some pretty harsh revisions to its financial outlook, which is a testament to how much video-game companies have come to  rely on the success of a few blockbuster releases to carry them.
Ubisoft now says it will lose from €40 million ($54.2 million) to €70 million over the fiscal year ending in March. Its stock plummeted accordingly, losing about 35 percent of its value by Wednesday morning and hitting its lowest levels since April. Ubisoft, of course, doesn't believe it's doomed. "We made a choice that will pay off in the long run," Yves Guillemot, the company's chief executive officer, told Bloomberg News. "The market has changed—we need huge blockbusters, and that means making very high-quality games."
Ubisoft still has to deliver that blockbuster. Still, it's not unreasonable to suspect the company sees an advantage to a later launch. Watch Dogs will be compete directly with Grand Theft Auto V, which earned $1 billion in its first three days. Letting that excitement fade could give Watch Dogs its own day in the sun. Also, the shift toward new consoles is a process that takes place over several years—it could be as late as 2015 before annual sales of the Xbox One and PlayStation 4 surpass sales of their lower-priced predecessors, according to Gartner (IT) analyst Brian Blau. That means the total number of potential customers for PlayStation 4 and XBox One versions of the game will be higher next spring than they will be on the day they commence selling.
Still, Sony and Microsoft can't be pleased with Ubisoft right now. They were counting on this game to drive sales of their new devices. Sony has already been selling Playstation 4s bundled with Watch Dogs. With so much riding on the new consoles, the console makers don't want anything happening to undermine their launches. The absence of one of the most-anticipated games hurts.
Before it's here, it's on the Bloomberg Terminal.
LEARN MORE