pursuits
Even the Cops Can't Get Their Hands on Pappy Van Winkle
By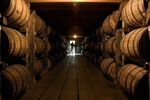 The temptation of some of the world's most-coveted booze might have finally been too much for the folks who make Pappy Van Winkle bourbon.
In recent weeks, almost 200 bottles of the celebrated spirits have gone missing from the Buffalo Trace distillery in Kentucky, which makes the stuff. The county sheriff, Pat Melton, is considering it an inside job. "I think it's going to be a tough case to solve," Melton told the local newspaper. "You got about 50 employees that had access."
The retail value of the missing booze is $26,000. The oldest iteration of what bourbonphiles affectionately call "Pappy" ages for 20 years and sells for about $130 a bottle—if you can find it. Most liquor stores get only a few bottles a year and draw up wait-lists with hundreds of names. On eBay, bottles of 20-year Pappy are listed for about $89, but they are empty: Apparently $89 is the market-clearing price for tricking one's friends with a lesser bourbon.
Exacerbating the Pappy shortage is a lag in the production cycle. The 20-year-old Pappy hitting the market today was bottled around the time Lance Armstrong was toasting his fifth Tour de France win—long before Don Draper old-fashioneds and the craft-cocktail movement drove a wave of demand for bourbon.
In a July profile of the distillery, Louisville Magazine aptly called it "The best bourbon you'll never taste." The company couldn't be reached for comment on the theft, but here's how Julian Proctor Van Winkle III, the head of the family dynasty, described the market dynamic to the magazine:
"We have people with literally billions of dollars who can't find a bottle. They could buy a private jet in cash. They'd have an easier time buying our company."
No wonder employees are taking a nip.
Before it's here, it's on the Bloomberg Terminal.
LEARN MORE