With Sony Deal, Netflix Lands Its First Big Studio Show
by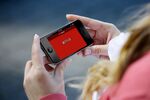 The hairs on HBO's neck must be bristling today because Netflix has moved a step closer to crossing into the world of cable TV.
This week, Sony Pictures Television announced it will produce a psychological thriller for Netflix, making Sony the first major Hollywood studio to work with the streaming service. That's a big coup for Netflix, which has enjoyed enormous success with such original shows as House of Cards and Orange is the New Black but hasn't yet been able to secure deals with any big studios.
Netflix's new show with Sony comes from the creators of the FX legal drama, Damages, and will span 13 episodes released in bulk, perfect for instant binge-watching. Sony also produced AMC's Breaking Bad and currently works on NBC's The Blacklist; it owns no cable network, so Sony has no qualms about helping Netflix compete with them. News of Netflix's negotiations with Comcast and others to offer its service directly on cable TV boxes became public yesterday, and cable providers certainly have reason to worry about Netflix.
Accessing Netflix without needing a special device sounds like a fantasy situation for many Americans—cable providers aren't known for convenience and tend to inspire as much customer satisfaction as the airline industry. Such access is already a reality in Sweden and the U.K., where two cable companies have agreed to make Netflix accessible through customers' Tivo boxes. As Netflix becomes more like a premium cable channel—and more like cable provider—it remains to be seen which rivals wind up more threatened.
Before it's here, it's on the Bloomberg Terminal.
LEARN MORE