Why Uniqlo Won't Open Stores in the Heartland
By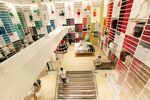 Uniqlo's bid to dominate the U.S. apparel game is about to kick into high gear. The Japan-based clothing giant, a unit of Fast Retailing, will open eight more U.S. stores between now and Thanksgiving—doubling the number of its American locations.
But there's a big hole in the company's North America strategy—a gap of roughly 3,000 miles, to be specific. When the latest expansion is complete, there will be a cluster of stores near New York, a cluster near San Francisco, and nary a Uniqlo in between. Don't shoppers in Colorado like ultralight down? Aren't Arkansans a natural fit for AIRism, Uniqlo's cooling underwear?
This morning we caught up with Larry Meyer, Uniqlo's U.S. chief operating officer, to get some details on the retailer's bicoastal strategy. The problem with the Midwest, he says, is twofold: brand awareness and employee training.
A grouping of stores in one place offers marketing synergies, Meyer explains. Buying a billboard in New Jersey, for example, is going to pay off for a handful of Uniqlo stores, not just one. And the stores themselves act as billboards. A Staten Island commuter who walks by the shop on Manhattan's Fifth Avenue every day is probably much more likely to visit the Uniqlo that opens in the Staten Island Mall this Friday.
Building the brand, however, is the easy part, according to Meyer. Building a competent staff is tougher, particularly for Uniqlo, which puts a premium on service and tries to imbue employees with a sense of ownership. "Awareness is just a money issue—training is a people issue," he says. "We like scale and the economics that go with it, but you can deal with that fungibly. With people, you can't."
What's more, the Midwest pressure is off somewhat, since the company opened a U.S. Web store almost a year ago.
Despite a sobering profit outlook from Uniqlo's Tokyo headquarters last month, Meyer says the company will continue expanding at its current pace, opening another 20 or so U.S. stores next year. Yet he won't say when Uniqlo will hit the Heartland. When it does, Chicago will be the likely landing point, according to Meyer. That's as good a spot as any for cheap down coats and heat-trapping long johns.
Before it's here, it's on the Bloomberg Terminal.
LEARN MORE