Why the Medical Device Tax Came to Rule the Debt-Ceiling Talks
By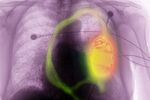 People following the negotiations to end the government shutdown and raise the debt ceiling may have been puzzled in recent weeks to learn that the talks have hinged at times on a fairly obscure component of the Affordable Care Act: the medical device tax. One of Republican Senate Minority leader Mitch McConnell's conditions for ending a standoff has been repealing the tax. What is the device tax and how did it become so important? A brief tutorial:
What is it?
The medical device tax is a 2.3 percent excise tax on such items as defibrillators and pacemakers and is meant help cover the cost of Obamacare's expansion of the health care system. When the ACA was drafted, its supporters believed that industries likely to benefit financially from the overhaul should help pay for it. Insurance companies would pay more, as would the pharmaceutical industry. The ACA's advocates thought it only fair that device makers should contribute, too. The tax, which went into effect in January, is expected to raise $30 billion over the next decade. It's not a huge amount in the grand scheme, but everything helps when it comes to finding ways to keep the federal budget in check.
Why do Republicans want to kill it?
They don't like Obamacare and they don't like taxes. But that's only part of it. Aversion to the tax has been inflamed by a well-organized campaign by device makers to get rid of it. The industry's trade association, the Advanced Medical Technology Association, or AdvaMed, produced a study in 2011 claiming the tax would hamper innovation and make manufacturers move operations overseas, resulting in the disappearance of 43,000 U.S. jobs. This was a projection. House Speaker John Boehner (R-Ohio) upped the stakes on Sept. 30, when he asserted that that the exodus was already underway and "costing us tens of millions of jobs."
Is this true?
Probably not. Last year Christopher Flavelle, an analyst for Bloomberg Government, wrote that the AdvaMed study is "not credible." He pointed out that "the tax will apply to all covered products—dialysis machines, pacemakers, heart monitors, and the like—sold in the U.S., regardless of where they are manufactured. Devices made in the U.S. for export are exempted from the tax. That means U.S. companies selling domestically have no new incentive to move production outside the country." On Oct. 9, Eugene Kiely of FactCheck.org, took Boehner to task for his job-loss claims: "It's true that [medical device] companies have announced the elimination of several thousand positions–worldwide, not just in the U.S.—but there is no evidence the number has reached the 'tens of thousands' or that all those jobs are going overseas."
So why are the Republicans pushing so hard for its repeal?
Because this is a battle they could actually win—if not in this round of budget negotiations, possibly in the next. Democrats in Congress may be united in support of Obamacare, but some don't like the device tax, either, especially those from states where the industry is strong, such as Massachusetts. As Bloomberg View noted in June 2012, "Even Elizabeth Warren, the liberal icon who took on Wall Street and is now running for a U.S. Senate seat in Massachusetts, home of Boston Scientific, favors repealing the tax. Health-care providers gave Warren about $102,000, the No. 2 source of her campaign funds."
Then why haven't opponents of the tax been able to repeal it?
First off, because President Obama and Democratic leaders have resisted negotiating it away. The tax also has champions in Congress. As Brian Johnson, publisher of MassDevice.com, a site that chronicles the industry in Massachusetts, told WBUR: "It has the three most powerful friends you can get in Washington, D.C. Sen. Max Baucus, chairman of the Senate Finance Committee, is the father of the tax, having been in on creating the ACA in 2009; his colleague, Senate Majority Leader Harry Reid, has no interest in bringing a repeal bill to a vote because he helped broker a deal to cut the tax in half in 2009. And the biggest backer of the tax, President Barack Obama, has promised to veto any bill containing a repeal of the medical device tax."
That helps explain why McConnell seems to have backed off on his repeal demands, for now. House Republicans, looking to save face, may want to take one more crack at getting rid of the medical device tax before cutting a last-minute deal with Democrats.
Before it's here, it's on the Bloomberg Terminal.
LEARN MORE