Who "Matters" on Wall Street
By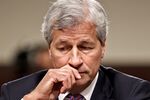 This morning, New York Times columnist Andrew Ross Sorkin puts his finger on the disconnect between average everyday folk and the Wall Street establishment with his assertion that, when it comes to criticizing JPMorgan-Chase chief executive officer Jamie Dimon, some people "matter" and others don't. The "pundit class," as he put it, seems to want Dimon to resign in the face of multiple regulatory and criminal investigations, which have prompted the bank to set aside $23 billion for potential legal costs. The bank reported its first quarterly loss since 2004, and its first under Dimon, on Oct. 11. Dimon told analysts on the earnings call: "This is very painful for the company."
Sorkin writes:
"When I called Dennis Kelleher, president of BetterMarkets, a nonprofit Wall Street watchdog, he put it this way: 'By any objective measure, Jamie Dimon should be fired. The compliance failures are egregious and systemic.' Yet there is an almost bizarre disconnect between the headlines and what the people who matter—the investors, analysts, board members, and, yes, even regulators—are seeking. None of them want him fired."
It might be the first time that someone has admitted, quite so openly, what those who aren't among the chalk-striped class have long suspected: Wall Street couldn't care less about how everyone else views what it does. A similar sentiment emerged on CNBC a couple of weeks ago during an interview with a Dimon critic that generated a huge amount of attention: "The company continues to churn out tens of billions of dollars in earnings and hundreds of billions of dollars in revenue," CNBC anchor Maria Bartiromo said, as if that would obviously insulate him from scrutiny. "How do you criticize that?"
Whether one believes Dimon is the greatest manager of all time or sees him as a troubled CEO who should move on, it's good to have the Wall Street-real world disconnect completely out in the open, so that future discussions can be framed honestly in those terms. Even people in the financial world don't agree with each other.
"All you need to know about Sorkin's article on Dimon is revealed in the 4th paragraph: the 'people who matter,'" wrote Epicurean Dealmaker on Twitter this morning. "I stopped reading there."
Before it's here, it's on the Bloomberg Terminal.
LEARN MORE