When Electronic Food Stamps Fail, Who Foots the Bill?
By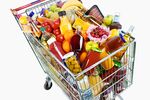 Some shoppers on public assistance in 17 states were treated to a free buying binge over the weekend after a data center glitch at Xerox removed spending limits on their electronic benefits cards.
Xerox, one of three companies that operate payment systems for the Supplemental Nutrition Assistance Program (SNAP), said its EBT program was disrupted for 11 hours on Saturday, when one of its data centers lost power during a test of a backup generator. States affected by the outage include California, Illinois, Georgia, Ohio, Michigan, Pennsylvania, and Texas. The EBT cards are similar to bank debit cards and are issued under each state's food-aid programs, coded with a recipient's monthly spending limit.
Xerox notified businesses in its EBT region about the problem and is processing reimbursement claims from Wal-Mart Stores and retailers who participate in the assistance program, Xerox spokeswoman Jennifer Wasmer says. The company doesn't have information on how many businesses or SNAP recipients were affected, she says.
Participants are allowed a daily spending limit, an amount reimbursed to a retailer that applies for it whenever the electronic system suffers an outage. "The good news is that those procedures allow retailers to meet critical food needs for customers," Wasmer says. The EBT vendors handle the reimbursements, which are funded by the SNAP program.
On Saturday night, however, managers of Wal-Mart stores in two Louisiana towns near Shreveport called police after customers began streaming into stores and buying groceries with cards that had no spending limits because of the glitch. "Some people had eight or 10 shopping carts full of groceries," Springhill Police Chief Will Lynd told Reuters, and "decimated the grocery section of Walmart." The crowd dispersed around 9 p.m., when the spending-limit problem was corrected, he said.
Wal-Mart spokesman Kory Lundberg says the company had received no reports of similar incidents at its stores elsewhere in Louisiana or in the 16 additional states affected by the system's glitch. He said the EBT outage had no material financial impact on the retailer's business but that company officials are consulting with Xerox to try to prevent such problems in the future.
Wal-Mart managers at stores in the affected states continued to sell goods while the system was down. "We feel fortunate, and we're proud that we were in the position to keep serving," Lundberg says.
Before it's here, it's on the Bloomberg Terminal.
LEARN MORE