Toyota Adds Relief for Buyers Hurt by Government Shutdown
By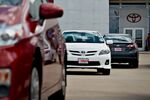 Hyundai Motor scored a PR bonanza early this month when the Korean company announced it would allow federal workers furloughed by the shutdown to defer loan and lease payments on their Hyundai autos. Now the biggest Japanese automaker is entering the shutdown-amnesty game. Toyota said on Oct. 14 it would offer deferrals of up to three months on payments for customers affected by the shutdown.
"The government shutdown has placed an unanticipated financial strain on many individuals and families," said Al Smith, Toyota Financial Services (TFS) group vice president of service operations. "Toyota Financial Services and Lexus Financial Services [LFS] remain committed to making the lives of our customers easier, so we are pleased to be able to provide some flexibility to our customers affected by this situation."
The twist from Toyota: Recognizing the widespread impact on the economy, the company isn't limiting the relief offer only to furloughed workers. "This broad outreach includes any Toyota Financial Services or Lexus Financial Services customer financially burdened by the government shutdown, including furloughed workers, businesses and employees of businesses directly affected by the shutdown, government contractors, and suppliers," Toyota said in its announcement. "TFS or LFS customers in good standing with their accounts may be eligible to defer up to three months of payments."
Toyota isn't the first Japanese automaker to follow Hyundai's lead. Nissan Motor on Oct. 3 issued a statement reiterating its standard policy of offering up to 90 days of relief for borrowers experiencing rough times. While the Nissan program isn't specifically for furloughed workers, the company has presented it to them as an opportunity. The relief offer "may become helpful to the hundreds of thousands of federal employees who are indefinitely furloughed during the government shutdown," Nissan said in its statement.
"NMAC [Nissan Motor Acceptance Corporation] is sympathetic to any of our customers who find themselves in difficult financial circumstances—many times outside of their control—and we want to provide assistance to help them through those times of uncertainty," said Mark Kaczynski, president of Nissan's automotive financing unit. "Our customers' needs are the No. 1 priority at Nissan, which is why we have this program available on an ongoing basis."
Hyundai's payment amnesty will last until Congress and the president reach a deal and the furloughed workers can go back to their jobs. The Korean automaker has had requests from more than 1,000 people "to have their payments deferred," according to John Krafcik, chief executive of Hyundai's U.S. unit. "That's a much stronger uptake than we thought."
Krafcik says the shutdown is already hurting sales. Demand will drop between 5 percent and 10 percent this month compared with September, he says, driven by worries about the shutdown. "It's that anxiety that keeps customers, potential buyers on the sidelines when making a big purchase like an automobile," he told Bloomberg Surveillance's Sara Eisen. "I think a lot of it has to do with this shutdown discussion."