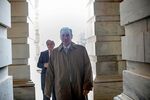 Senator Ted Cruz (R-Tex.) may not hold the trump card, after all. As Joshua Green explained, worry was spreading that procedural quirks could let Cruz singlehandedly force delays to any debt-ceiling deal, potentially causing the U.S. to default. There's an option to remove the risk, explains Sarah Binder, a professor at George Washington University and expert in Congressional procedure.
Binder says the House could take up the budget bill that volleyed back-and-forth with the Senate late in September; certain conditions make it "privileged" in the Senate. That means the bill wouldn't need to face additional motions to proceed, or other delaying tactics. Bloomberg News' James Rowley reports that according to a Republican aide, the House indeed plans to use the dormant legislation, H.J.Res. 59. Binder calls this a "gift" to Senate Minority Leader Mitch McConnell (R-Ky.), who wouldn't then have to fear Cruz's objections.
Under this scenario, Boehner would put through an amended version of the bill in the House. It would then bounce back to the Senate, where, "in theory, there will be another motion to strike the provisions of the House amendment that are inconsistent with the McConnell/Reid deal, and that would volley it back to the House, presumably at 11:59 p.m. on the 17th" for final approval, Binder says. With their backs against the wall, Boehner and House Republicans would be forced to conduct a final up-or-down vote.
Binder says this could work because the core of the evolving House and Senate plans are similar on the major elements: Both raise the debt ceiling until February and reopen the government until January. They differ mostly when it comes to add-ons that don't relate to the budget or the debt ceiling–such as the House's interest in delaying or removing a tax on medical devices—but that could be easier than strippiing out budget or debt provisions. "There are a lot of 'ifs,'" Binder says, but the workaround could cut Cruz out of the equation in the tight time frame that remains.
Before it's here, it's on the Bloomberg Terminal.
LEARN MORE