The Game Theory Behind Macy's Thanksgiving Opening
by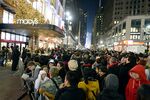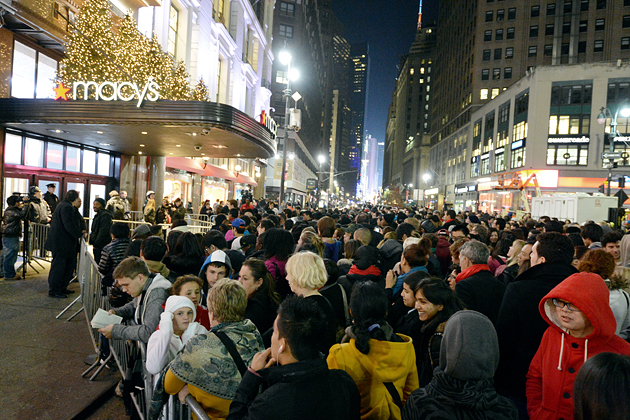 Macy's is breaking the Turkey Barrier. The department store giant said this morning it will open most of its 800 or so locations at 8 p.m. Thanksgiving Day, as Black Friday sales increasingly spill over into the holiday itself.
For holiday savants, that's a sacred hour known as "Round 2"—a strategic circle-back to the stuffing and wine after the pie has settled—not a time for tug-of-war over Martha Stewart casserole dishes marked down by 60 percent. On the East Coast, it's only a half-hour before the Steelers-Ravens football game kicks off.
Traditions are being trampled on by the Corporate Retail Complex! Of course, consumers don't have to go. Some won't, and that's precisely what the strategy folks at Macy's are betting on.
The purists scandalized by the thought of shopping on the holiday itself aren't likely to avoid Macy's altogether. And with the die-hard bargain-hunters swarming the stores on Thursday, Friday shopping will likely be much more pleasant for those who are a little less committed.
"It's a situation where Macy's can't really lose," said Kelly Tackett, research director at PlanetRetail, a New York-based consultancy.
The move also lets Macy's build some much-needed buzz. Despite its long-standing parade, Black Friday crowds often bypass the august retailer en route to electronics stores and discount outlets. Its "door-busters" this year include $10 coffee makers and pressure cookers, not plasma TVs.
"Macy's is trying to stand out among the crowd," Tackett said. "And they're facing a challenging retail environment. They need to create a sense of urgency."
Macy's is already low on momentum. Revenue in the recent quarter declined a worse-than-expected 1 percent, as it struggled to win cautious customers. In August the company lowered its outlook for the year.
Consumers may go a little easier on Macy's because it wasn't the first to sully Thanksgiving with dirty door-buster tactics. In 2011, Toys "R" Us opened at 9 p.m. on the holiday. Target followed suit last year, as did Lord & Taylor, a unit of Hudson's Bay Co.. Meanwhile, Target, Wal-Mart, and Gap have yet to announce their Black Friday game plans this year.
What may be most convenient is starting the sale season on Wednesday morning. I guess we'll have to wait for that—probably about a year.
Before it's here, it's on the Bloomberg Terminal.
LEARN MORE