pursuits
Sorry, Nike. You're a Tech Company Now
By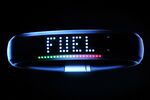 At Nike's press event on Tuesday, the company introduced a new version of the FuelBand, claimed that making more friends on its social network will probably make you live longer, called itself the Twitter of fitness, and had Foursquare co-founder Dennis Crowley get up and declare that Nike's data-tracking ways were one of the original inspirations for his company.
And all the while representatives from Nike insisted, sometimes without prompting, that Nike is not a technology company. It seems like a strange thing to harp on when everyone from multinational banks to kids running lemonade stands wants to claim some sort of Silicon Valley pedigree. But, whatever. The company's new wrist-based computers look pretty cool.
Nike's making some incremental changes to its FuelBand SE to keep up with competing devices from Fitbit and Jawbone. It will remind users to get up and walk around periodically, allow them to measure specific workouts, and give them ways to measure activity when they do exercises like yoga or bicycling, which the wristband had trouble with before. As Fitbit trackers have been able to do, the new FuelBand also measures sleep. Nike's device will be available on Nov. 6 for $150; the company will continue to sell the older model at a lower price.
Stefan Olander, Nike's vice president for digital sport, also stressed the importance of NikeFuel, the mysterious and proprietary statistic for keeping track of your activity level. The company won't divulge how the metric is calculated, although this much is clear: Unlike actual fuel, Fuel increases the more you exercise. Nike+ users set goals based in Fuel, which Olander describes as a "true universal metric that measures and motivates."
Nike increasingly wants other fitness technology products to do the same. Earlier this year the company ran a program that provided funding and assistance to small companies that were building applications that integrate into Nike+. On Tuesday, Olander said Nike will look to establish another round of partnerships, this time with more-established companies.
The more people measure their activity with Fuel, the more locked in they'll be to the Nike+ ecosystem—and the harder it will be to switch to other wearable computing devices. There's no way to get credit for all those Fuel points you've accrued if you suddenly decide you prefer the looks of Fitbit's new wristband. It also keeps people coming back to Nike's own website and apps.
The biggest prize for Nike may have come last week, when Apple said its new iPhone would have sensors allowing people to use their phones to keep track of their Fuel points. Apple's oft-predicted, never-confirmed smartwatch would presumably be a major threat to the FuelBand, but the two companies seem pretty cozy right now. Nike said on Tuesday that it still has no plans to make a Nike+ app for Android, and Olander indicated there are too many devices on the Android operating system to offer a consistent user experience. (He didn't mention anything about Apple Chief Executive Officer Tim Cook's presence on Nike's board.)
There is one way in which Nike's flirtation with the digital world absolutely does not resemble self-identifying technology companies: The shoe giant says it won't try to leverage the information it has about your workout routine to help advertisers show you targeted ads. "The model Nike is not around monetizing data," Olander said.
Besides that, Nike's opposition to being described as a technology company seems to be based mainly on not being compared to mediocre ones. "When people think about technology companies, they think about gadgets and gizmos," said Olander. But Nike is building cool-looking devices that closely connect to its own software. It's all about serving one particular kind of customer: the athlete.
Of course, this sounds a lot like what many tech companies are trying to to do nowadays. The appeal of the combination of distinctive hardware and branded software was the reason Microsoft bought Nokia, and why Amazon is widely expected to make a smartphone. It's how Apple shot its way to the top of the mobile world.
So Nike doesn't want to be called a tech company, but would it acknowledge that the plan it lays out makes the company sound a lot like an athletic version of Apple? Olander doesn't object to the comparison.
Before it's here, it's on the Bloomberg Terminal.
LEARN MORE