Spotting Consistency in Earnings May Help Highlight Winners
by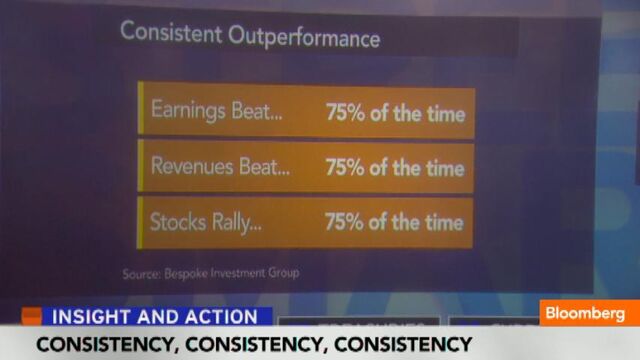 Consistency, consistency, consistency. Very few companies manage to consistently outperform, whether the metric is earnings growth, sales growth, or stock performance. As deal maker Marshal Sonenshine of Sonenshine Partners explained to the Bloomberg Surveillance team this morning:
"Right now there's a gap often between buyers and sellers of companies and, more importantly, there is a lack of conviction about the future of companies. You need to be able to project corporate earnings in order to make deals and right now there's still low visibility."
We've heard this echoed by a number of chief executives recently, from Honeywell's Dave Cote to publisher Steve Forbes.
Data reinforces this idea: the team at www.bespokeinvest.com has found just 30 companies (out of a possible 2,000) which have managed to surprise to the upside consistently across multiple metrics.
Consistency (and predictability) is indeed hard to find. We include some of Bespoke's "triple plays" scheduled to report earnings during the next three weeks:

While traders may be tempted simply to buy these stocks ahead of earnings, we'd like to offer a more surgical approach: buying options which under-price historic moves. Align Technology Inc. (ALGN ) reports on Wednesday and provides an excellent example:

Align typically moves 9.2 percent the day after reporting earnings. Currently, the at-the-money options are pricing a move of just 7.8 percent, since the put and call each cost $1.70 ($1.70 x 2 = $3.40, representing 7.8 percent of the current stock price of $43.50). In other words, the options underestimate the magnitude of the typical price move. So the options are a buy, especially if held against a short stock position to lock in a margin of 1.4 percent (9.2 percent minus 7.8 percent).
I recognize options aren't for everyone. The point is, options announce opportunity. So use the knowledge to your benefit. Three additional names from Bespoke's list: Intuit Inc. (INTU ), Priceline.com Inc. (PCLN ), and Madison Square Garden Co. (MSG ).
Before it's here, it's on the Bloomberg Terminal.
LEARN MORE