Simon's Advice to Prospective MBAs: 'Toughen Up'
Francesca Di Meglio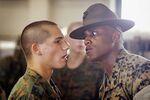 A lot of business schools adopt slogans crafted to appeal to future masters of the universe, but the University of Rochester's Simon Business School is taking a different approach. Its new tagline seems like something that out of the mouth of a Marine drill sergeant. "Toughen Up."
The marketing message, unveiled Oct. 14, is being described by school officials as  unapologetically honest about today's business challenges. It's a departure from the aspirational messages found at many top business schools, says Richard Moon, founder of Moon Brand, a branding company in Rochester, N.Y. that was charged with creating the school's new message.
Recently, University of Pennsylvania's Wharton School and Northwestern University's Kellogg School of Management launched their own rebranding efforts to gain attention. Simon added its tagline to the mix that includes Wharton's "Knowledge for action," Kellogg's "Think bravely…,"  UNC Kenan-Flagler Business School's  "Shaping Leaders Driving Results," and Harvard Business School's "We educate leaders who make a difference in the world."
Moon says Simon wanted a bold tagline that served as a message to the entire B-school community, not just a marketing ploy for potential students. His team studied the competition and immersed itself in the school—sitting in on classes, interviewing administrators, attending school-sponsored conferences, and trying out the new tagline on students to get their feedback, he says.
While most embraced the new message—especially alumni who said the Simon School "toughened them up"—a few were reluctant at first, says Moon. One student, he adds, said she would have been frightened to read this tagline before attending the school. But administrators and most students and alumni said they wanted a reality check in their new marketing campaign, says Moon.
"Business success is never an easy ride, so why is business education so often presented that way?" asks Keir Meisner, executive director of marketing and communications at Simon. "The promise is often to 'shape leaders' or 'bring you into the world of global business.' It all sounds a little too easy."
Leaders at the school and Moon admit that some might misinterpret the phrase, "toughen up," which might conjure up images of drill sergeants at boot camp. Instead, Simon administrators want educators to be like coaches training students for the Olympics, says Meisner, without any illusions about how rocky the road to gold can be.

Join the discussion on the Bloomberg Businessweek Business School Forum, visit us on Facebook, and follow @BWbschools on Twitter.