pursuits
Rory McIlroy Is Not Happy With His Former Agent
By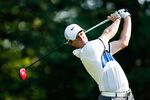 Rory McIlroy, one of the world's best golfers, says he signed one of the world's worst contracts. As Bloomberg News reported yesterday, the 24-year-old Northern Irish golfer is suing his former agency Horizon Sports Management to void the "unconscionable," "improvident," and "oppressive" deal he accepted in December 2011. Horizon says it has done "exceptional" work and will defend itself vigorously. "Horizon has confidence in its position," the agency said in a statement. "This confidence is underpinned by a legally binding contract and the clear evidence of the exceptional job done for Rory McIlroy by Horizon."
In McIlroy's version of events, filed in the High Court in Dublin last week, he was a naive 22-year-old who didn't know better when a contract was put in front of him "in circumstances of great informality" at Horizon's Christmas party two years ago. That deal claimed 5 percent of his prize money from tournaments and 20 percent of his sponsorship and appearance fees.
Cuts that big, the suit claims, are typical for "an inexperienced and unproven golfer who had enjoyed no success," and not fit for McIlroy, who was ranked in the top five in the world at the time. His fees, says the suit, should have been zero for on-course earnings and 5 percent to 7 percent for off-course. As it was, McIlroy says he paid $6.8 million to Horizon. Now he wants back the difference between that sum and the going rate. The suit doesn't specify an amount.
The golden goose for McIlroy was Nike. In December 2012, according to the suit, the apparel brand agreed to pay him about $20 million per year. After the Nike deal closed, says McIlroy, Horizon got especially greedy. The talent agency offered to extend his Horizon contract to 2017. Buried in the extension, the suit claims, was a clause that claimed commission on money from the current Nike deal and on any future Nike deal whether or not Horizon continued to represent McIlroy. Horizon, in other words, was reserving rights to McIlroy's fattest sponsor in perpetuity, even if he someday chose another agent.
That's when the relationship began to sour. McIlroy, according to the suit, signed the extension in March 2013, then noticed the Nike clause. When he asked about the clause, he says he was told "the wording of the clause was drafted in error" and was presented with a revised version. This time, the suit says, Horizon dropped its claim to every future Nike deal but still sought commissions on any Nike contracts negotiated under its watch, even if McIlroy later dropped Horizon.
The Nike clauses apparently alerted McIlroy to what he felt were broader problems with Horizon's terms. Looking back, he decided he'd been cheated. The challenge for McIlroy now will be convincing the court that Horizon is to blame for the dumb contracts he signed.
McIlroy joins a long tradition, both in Ireland and beyond, of young athletes and performers claiming their agents were scoundrels. Such cases, says Robert Clark, a consultant to the Irish law firm Arthur Cox and author of Contract Law in Ireland, are "invariably prolonged and complex." Yet many of these celebrities, he writes in an e-mail, have successfully voided deals "on the basis that they were young and commercially inexperienced at the time the contract was formed."
Clark points to Manchester United soccer star Wayne Rooney, who got out of a contract two years ago using restraint of trade principles; hockey legend John Tonelli, who, as minor, dodged a contract with the Toronto Maple Leafs on grounds of unfairness; and musicians Elton John, Gilbert O'Sullivan, and the Stone Roses, who successfully challenged copyright assignments "on the basis of flawed management and advice."
McIlroy's hope lies in standard contract language requiring good faith and disclosure from agents. If he can show that Horizon didn't look out for him and knew what it was up to, he may win. Whatever the case, budding pro athletes and pop stars everywhere would do well to read McIlroy's suit.
Before it's here, it's on the Bloomberg Terminal.
LEARN MORE