Next for Chinese Companies: Building Consumer Brands
Harold L. Sirkin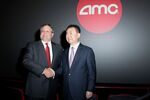 It says something about the world we live in that our interest in China's economy has turned from a concern that China would dominate the world economy—presumably at the U.S.'s expense—to a concern that China has "lost its mojo," as one headline writer put it, which also would hurt the U.S.
Even as the Chinese economy appears to be rebounding, there are worries that the "recent turnaround … relies on old policies, raising doubts about how long the rebound can continue." One particularly dour headline writer, pointing to a recent Barclays (BCS) forecast, called the outlook "grim."
The statistics tell the story. From 1978 to 2000, after China's "reform and opening" policy began, China averaged an annual GDP growth rate of 9.5 percent, according to the country's National Bureau of Statistics. The peak years during that period were 1984, when the growth rate was 15.2 percent; 1992, when it registered 14.2 percent; and 1993, when it hit 14 percent.
From 2000 to 2012, it averaged just more than 10 percent, with the peak years of 2005-07 recording gains of 11.3 percent, 12.7 percent and 14.2 percent. The low point during that period was last year, when the economy grew 7.8 percent. Forecasts for the current year are in the 7 percent to 7.5 percent range. And the Barclays forecast, which looks years into the future, calls for even slower growth.
What are we to make of all this? The answer: We're probably making too much of it.
China's stratospheric growth rate was unsustainable; a 5 percent to 7 percent annual growth rate—perhaps even a little less than that—is much more realistic in the long run. And if its economy grows at that rate, China should continue to outpace the rest of the world for some time to come.
The point is that China hasn't lost its mojo. What we're seeing instead is a country in transition, changing from an export-driven manufacturing economy that's been operating in hyperdrive to a more stable, slower-growing consumer economy that's focused on the future—to which its massive investments in infrastructure will attest.
The easy stuff is mostly done. Now comes the hard part for Chinese companies: building brands that earn consumer loyalty.
That's why a lot of Chinese companies, flush with cash, have been on a buying spree in recent years: It's easier, and may be cheaper in the long run, to buy an existing brand than to build a new one. It's why the Chinese tech company Lenovo Group (992:HK) purchased IBM's PC business in 2005; why automaker Zhejiang Geely Holding Group purchased Volvo Cars in 2010; why real estate, entertainment, and hospitality conglomerate Dalian Wanda Group purchased AMC Theatres last year; and why meat-processing company Shuanghui Group purchased Smithfield Foods—whose brands include Armour, Farmland, and its namesake, Smithfield—this year.
Whether 2000-2099 will be remembered by historians as the Chinese Century, as the 20th century has been dubbed the American Century, remains to be seen. China still has many hurdles to overcome.
Still, as my colleagues Michael Silverstein and David Michael noted in their recent book, The $10 Trillion Prize, by 2020 Chinese consumers could be spending more than $6 trillion annually, up from $2 trillion in 2010. "Due to rising incomes and longer life expectancies, we estimate that Chinese children born in 2009 will likely consume approximately 38 times more than their grandparents during their lives," they wrote. "China's upper-income bracket will nearly quadruple, from 24 million to 91 million households; its middle class will grow from 109 million to 202 million households."
This will provide an extraordinary range of opportunities for U.S. and other multinational businesses.
The mojo in China is shifting from the factory floor to the department store and the showroom. This type of "slowdown" should be welcome.