Fast-Food Wages Come With a $7 Billion Side of Public Assistance
By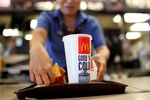 3pm Oct. 15: Updates to include comment from McDonald's.
Talking about salaries, that fundamental measure of what someone's labor is worth by someone else's calculation, is usually fraught. Talking about the minimum wage is often harder, especially because low-paying service jobs tend to be more readily available these days than alternative occupations.
When fast-food workers staged protests this summer to demand the federal minimum wage be raised from $7.25 to $15 an hour, even sympathetic observers weren't optimistic about the prospects. There seems to be a ready supply of people who will work for low wages. And higher wages could lead to higher prices, which few so far seem willing to pay; my colleague Venessa Wong figured that if fast-food wages doubled and companies did not reduce other costs, the price of a Big Mac could increase by $1 to offset the increase.
Two studies released today make some different calculations to determine the total cost to American taxpayers of a large, low-wage workforce. It comes to an average of $7 billion a year. That's the amount of annual public assistance families of fast-food workers received between 2007 and 2011, according to a new report written by economist Sylvia Allegretto and others, sponsored by the University of California at Berkeley's Labor Center and the University of Illinois at Urbana-Champaign, and funded by Fast Food Forward, the group that helped organize the summer's labor strikes. The authors used publicly available data.
The report calls out the fast-food industry for its low wages, citing a median salary of $8.69 an hour and a history of offering part-time work. That might have been fine when those behind the counter were mostly teenagers living at home. These days, though, 68 percent of fast-food workers are single or married adults who aren't in school—and 26 percent are raising children.
Overall, 52 percent of families of fast-food workers are enrolled in one or more public assistance programs, compared with 25 percent of the workforce as a whole. Medicaid and the Children's Health Insurance Program accounted for nearly $4 billion of the $7 billion figure. The Earned Income Tax Credit, food stamps, and the Temporary Assistance for Needy Families program accounted for the rest. "Public benefits receipt is the rule, rather than the exception, for this workforce," the authors write.

A second study, based on the data collected by Allegretto and her colleagues, names names. Workers at McDonald's, the biggest hamburger chain, are estimated to have received the most public assistance: $1.2 billion worth a year from 2007 to 2011. "McDonald's and our independent franchisees provide jobs in every state to hundreds of thousands of people across the country," a McDonald's spokesperson said. "As with most small businesses, wages are based on local wage laws and are competitive to similar jobs in that market."

Before it's here, it's on the Bloomberg Terminal.
LEARN MORE