Citi Sputters, but Things Could Be Worse
by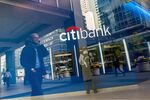 TARP, stress tests, subprime salami: Memories of that nightmare have largely been repressed by Wall Street, which is back to the business of extruding outsize profits. The laggard is heavily bailed-out Citigroup, the third-biggest U.S. bank and that relic of 1990s "financial supermarket" thinking. Citi is now in the process of undoing that starry-eyed aspiration, shuttering branches, streamlining divisions, and getting out of far-flung places like Uruguay and Pakistan.
Its stock is up 25 percent this year and has quintupled from its meltdown low, when—as legend has it—President Obama was keen to shut down the megabank. Still, while shares of rivals JPMorgan Chase and Wells Fargo are near all-time highs, Citi remains more than 90 percent off the peak it set seven years ago. It is the last too-big-to-fail bank to wrest back financial self-determination from regulators, and it's looking to pare upwards of $900 million in costs this year.
As one of Wall Street's weakest hands, Citi and the underwhelming third-quarter earnings it reported today still tell us a lot about the health of the business and broader economy writ large.
Start with the good. In a risk-on world, where decent bids for yesteryear's toxic securities and properties are to be had, Citi management is doing a solid job of exorcising the musty demons of subprime. Consider Citi Holdings, the "bad bank" that holds the assets Citi wants to dump. The segment's loss plunged 97 percent to $104 million, from $3.55 billion a year earlier, and new management has successfully shed 29 percent of Citi Holdings over the last 12 months.
Citi is also hitting its stride in stock trading, where revenue jumped by almost a third from a year earlier, thanks in large part to a bumper year for the market.
But overall, Citi reported a profit that missed analysts' estimates as bond trading fell by more than a quarter and mortgage revenue declined. The fixed-income business, which chipped in about 20 percent of Citi's revenue last year, suffered alongside home lending from the summer's overriding concern the Federal Reserve would taper monthly debt purchases that pushed interest rates to record lows. Mortgage refinancings dried up after rates on 30-year loans jumped from historical lows of less than 3.5 percent earlier in the year, to an average of 4.32 percent to end last month, data compiled by Freddie Mac show. Applications, which accounted for 82 percent of all requests for home loans last year, made up 63 percent in the third quarter, according to the Mortgage Bankers Association.
Profit at Citigroup's consumer banking unit, which totes about 4,000 branches in nearly 40 nations, fell 23 percent to $1.62 billion. That most front-facing unit of the retrenching multinational is still seeking its right size. "While many of the factors which influence our revenues are not within our full control, we certainly can control our costs," freshman Chief Executive Officer Mike Corbat said in a statement.
Until there's more certainty on the direction of interest rates, you should expect similar boilerplate from the rest of Wall Street.
Before it's here, it's on the Bloomberg Terminal.
LEARN MORE